Nowadays, everything is online, and it has transformed how people shop. Every shopping website is giving its customers a whole new experience like Shopify, for instance. Retailers can earn more customers through these shopping sites. However, to meet the number of orders, a Shopify store owner should always know their levels of inventory. It helps them in providing the best service to their customers and knows the status of the stock. To tackle this issue, here are some of the best inventory management apps for Shopify owners.
TradeGecko: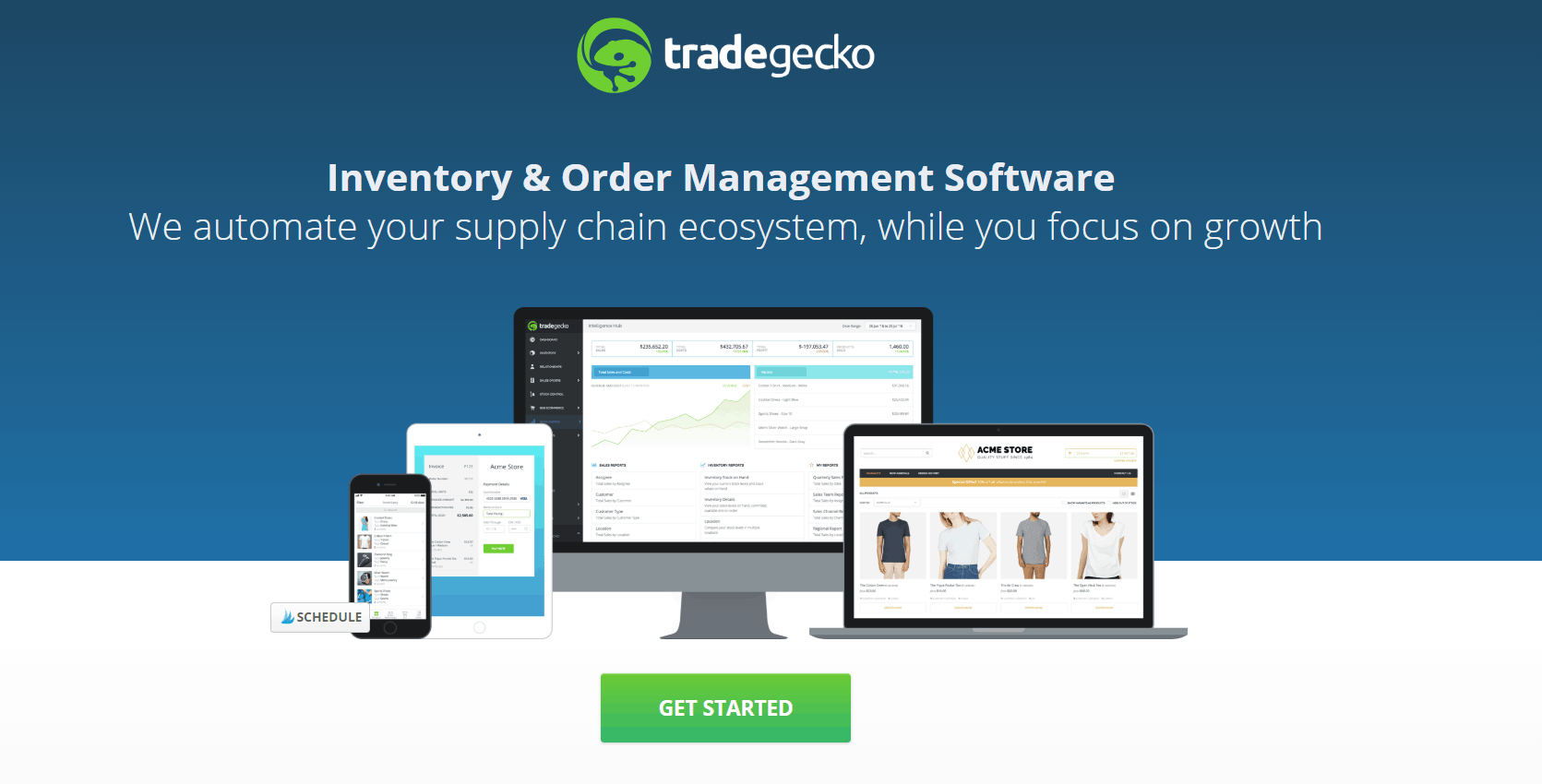 The first of the inventory management apps on our list is the TradeGecko. It aims to make inventory management seamless and powerful.
Here are the pros and cons of TradeGecko.
Pros:
It provides full inventory control.

Provides the latest statistics of inventory in real-time.

Moreover, it has the option for multiple currency payments and shows the dashboard in the user's currency.

On the other hand, integrates with Shopify, Magento, WooCommerce, and Bigcommerce.
Cons:
It lacks POS support and does not support manufacturers that well.

Hence, Sometimes, the operations might become a little slow.

Not customizable by the user and Xero integrations sometimes get bulky.

However, Invoicing is complex, and the user interface is a little complicated.
ZapERP Inventory:

ZapERP is a #1 Fully-Featured Inventory Management Solution for your business. Experience ZapERP's expertise in real-time management of inventory, unlock the power of eCommerce automation and watch your business skyrocket. ZapERP inventory, no doubt, tops our list of inventory management apps. Here's why:
Pros:
Simple, clean, and easy-to-use interface which shows all your products in one single place

Smooth Multi-Channel Retailing – Start selling everywhere & manage it all on a single platform

Superior Inventory Control Software to

keep inventory levels optimized

at all times

Automate purchases with easily configurable reorder point and restock levels

Seamless Shipping Management to easily ship every customer order in less time

Send invoices and collect payments easily, quickly, and securely

Filter your product data whichever way you like to get the best insights and analysis

100+ templates for invoices,

Purchase Orders, and Credit Notes

Multi-currency support and pricing features you can get nowhere else

World's Most Powerful Integrations

with third-party apps
Cons:
Missing some advanced reporting features

Lots of features require more learning
Best Part:
With ZapERP, there's also a free 14-day trial that you can take benefit of to check if the app is right for your business. Check it out today!
Stichlabs Inventory Management:

Stichlabs inventory management app is an inventory management app for online sellers in various platforms like Shopify, Amazon, and other e-commerce stores.
Pros:
It comes with an excellent user interface and support

Thus, it is suitable for small business in a budding stage

Moreover, it can create multiple warehouses and effect

transfers between them.

Automatic updating of inventory levels after the sale in Shopify.

Integrates with Xero for accounting functionalities.

Third-party integrations, along with predictive analytics and forecasts.
Cons:
However, in the case of multiple warehouses, the system becomes slow even in the latest

Stich's capabilities will be hindered as the business grows in size.

Reconciling inventory per product is difficult, and inventory is shown as a whole.

The pricing plan is very costly for businesses running on a budget.
Stocky Inventory Management Apps

Stocky is one of the inventory management apps that only measures the inventory levels of the business.
Pros:
Firstly, it is easy to create stock orders for suppliers and vendors in a few clicks.

Secondly, an intuitive system that helps the user to pay attention to the most urgent supplier.

Provides order suggestions based on the performance of recent or seasonal sale data.

Indicates low stock and it is graded from high revenue to low revenue items

Most certainly, In the case of a tight budget, you can decide which vendor is more important.

Sale suggestions let you know which product is slow so that a particular stock can be cleared.

It does an ABC analysis of the stock. It is rank given automatically by the software. This grade measures the stock that churns the highest revenue out of all your products.
Cons:
It is only an inventory management app, so no other functionality is present.
The user needs to have different systems for all other business operations.
Fishbowl – QuickBooks Inventory Management Software

Fishbowl is one of the complete inventory management apps suitable for manufacturing processes. It goes through every stage of production.
Pros:
It is very easy to use; as a result, the software is continuously tweaked to offer the best user experience.

Has may offer customizable options, and the mobile app is very useful for taking pictures.

Ordering, inventory tracking, and automatic updating of inventory levels.

Above all, Great customer service and suits the need of a growing business.
Cons:
Sometimes some issues may arise when raising sales orders.

When connecting with QuickBooks, the user may face hanging issues.

Report creation or modification feature is not as strong as other software in the store.

Performance becomes slow when the system is unable to handle the process.

Third-party providers and automated order processing function is limited.
Note: We've covered some of the best inventory management tools here, but there are plenty of other options available in the market.
——————————————————————————————————-
Our Recommendation:
Based on the above reviews, it is clear that ZapERP is the editor's choice when it comes to the inventory management software app on Shopify. The pricing is also very less when compared to the other apps and is perfect for small businesses and also for businesses that handle a large number of operations. The outstanding feature of this software is the invoicing feature and integration with multiple payment gateways along with tax provisions of different countries.
ZapERP has also been shortlisted as "Best Inventory Management Systems" by GetApp. It specializes in all aspects of monitoring and tracking and has the necessary software to skyrocket your business. To know more about ZapERP's expertise in real-time management of inventory, please drop in an email now or feel free to comment!
——————————————————————————————————-
ZapERP comes with Livechat and dedicated support that's ready to help whenever you run into an issue. To find out how much ZapERP will cost for your business, you can contact them for a quote.