Multi-Channel Inventory Management: In the retail industry, inventory refers to all of the products a company has in stock. In manufacturing and mining companies, it's defined as any raw materials or partially complete goods that are intended for sale. For insurance agencies, an inventory is simply a list of items they have on hand at one specific time – they could be physical objects like cars or intangible items.
Inventory management is the careful and deliberate process of tracking, controlling, and optimizing your business' inventory as it's bought, manufactured, fabricated, stored, or used. It controls the entire flow of goods from purchase to sale ensuring stock levels across locations, always. Inventory management is a tricky business, and without the right structure or tools to secure inventory and fulfil orders, a company will crumble under pressure. Multichannel inventory management is a necessity for brand success in the eCommerce industry. Businesses not only need to sell on multiple sales channels, but they also need to overcome the difficulties associated with the multichannel model, including tracking multi channel inventory across all platforms.
Multi-Channel Inventory Management
Multi channel inventory management is an interesting process of keeping track of inventories from different sales sources and storage locations. Including stock for eCommerce, retail stores, marketplace sellers, wholesale businesses, etc. Multi-channel inventory management helps a company to look after stock level, reordering of stocks, and quarterly forecast of inventory turnover.
Multichannel inventory management solutions allow businesses to focus on growth rather than spending time and money tackling their inventories.
Benefits Of Multi-Channel Inventory Management
Automatic inventory updates across selling platforms and warehouses keep you organized, save the headache of making manual updates. There are several ways that multi-channel inventory management directly impacts a business. Some of the important benefits of multi-channel inventory management are:
Prevents Deadstock
When you end up selling items that are not in stock, delays can occur in order fulfilment. This can be disappointing for customers and even result in lost profits for you if the customer is refunded for their purchase. Not having a firm grasp on inventory or audience demand for products can also result in deadstock or overstocking certain items that you have to pay for storage.
Automated multi-channel inventory management software makes the process easy. With a central database of your products, each sale will pull from the same inventory no matter where it was made.
Improve Overall Inventory Visibility
A good multi-channel inventory management system helps sellers to check and assess stock levels across sales channels, warehouses around the world. Sellers can also check their inventories in real-time and how different products are selling or not, in every corner of the world from a single window.
Selling teams can also learn about the impact of their products on specific regions, categories, or individual items—and adjust accordingly based on real-time data.
Provide Insights For Inventory Forecasting
No eCommerce business can thrive without data. To optimize inventory management and order fulfilment as an online retailer, it is important to have a clear understanding of what products are in demand, which items aren't moving well with seasons, or sales trends that will help you forecast future demands on special events to go smoothly. Data and insights empower you to capitalize on new opportunities by making informed decisions. This visibility also helps to cut out channels that aren't performing well, so you can focus on the successful platforms and simplify your business operations.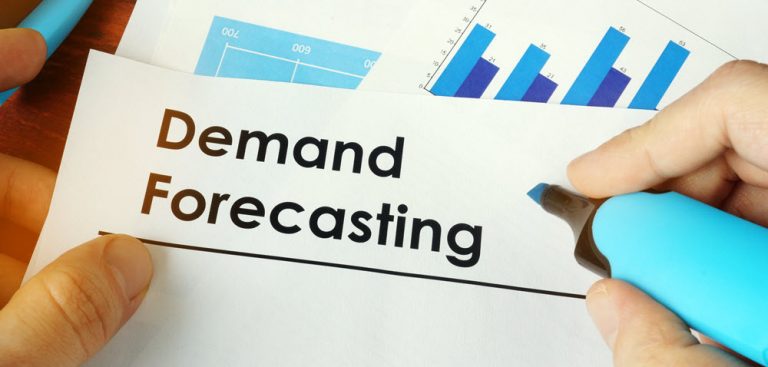 Better Consumer Experience
Multi-channel inventory management ensures that your customers receive the same quality experience when shopping for a product in-store or online, no matter where they prefer to shop. It is important to standardize this as a part of our branding strategy as well.
With the best multi-channel inventory management software, an employee can check the availability of a product across locations, therefore making the shopping experience quick and easy for customers.
Helps In Timely Delivery
Your business improves the order fulfilment process with a multi-channel inventory solution, ensuring orders are delivered quickly, accurately, and affordably. The system also makes it possible for your company to manage stock at locations worldwide, irrespective of your location. Locating inventory closer to customers improves delivery time.
Boosts Business Growth
A business can scale by adding more products, selling on different channels, working with various vendors and manufacturers, or storing inventory at additional warehouses. If you have to manually track your inventory, the process becomes much more tedious.
One of the secrets to an eCommerce business's success is using a multi-channel inventory management system that can free up your time so that you get to focus on what's most important: creating, marketing, and selling quality products.
Common Challenges In Multi-Channel Inventory Management
Selling through several channels, it's easy to land yourself in hot water when you use ineffective multi-channel inventory management solutions. Like almost everything good, multi-channel inventory also comes with its challenges. Here are some of the most common challenges:
Overstocking
Having too much inventory is a drain on the company's resources and has many negative consequences. It results in higher storage fees, insurance rates, and lower cash flow which isn't good for business goals. Most importantly, and this is particularly relevant for businesses selling perishable goods, overstocking can lead to inventory going to waste due to expiration dates.
Companies lose $471.9 billion each year due to bad inventory planning, such as overestimating sales volume or stocking products on one channel for fear of overselling. Ensure that you are not only of them – manage your inventory the smart way with ZapInventory!
Wastage Of Warehouse Space
Having the wrong products in multiple warehouses impacts both your finances and total storage space. The more limited storage space you have, your ability to stock high-selling items gets restricted; thus making it tough to meet consumer demands making them unhappy and most likely never to return to your business. Holding costs for storing stagnant inventory cuts into profits as well as making an impact on the overall performance of a business. Moreover, if you are an SME, you're likely to be renting out warehouse space. If it is not optimally utilized, this further adds to your list of liabilities and bad expenditures. When you look for software for inventory management, make sure they offer the functionality of multiple warehouse management.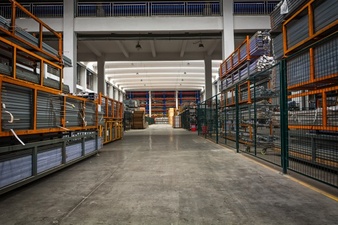 Overselling
The annual loss from overselling is estimated to be over $634 billion because retailers often have phantom stock (refers to a missing item from a warehouse yet reflects as an available item in an inventory management system). This can be the result of typos, inaccurate entries, or a lack of inventory management systems. The lack of software to sync sales across channels and update listed quantities in real-time becomes a problem when you promote an item that's low on stock. Items could sell out on multiple channels at once, which would force companies to cancel orders or suffer from other impacts such as those associated with stockouts. Not to mention, this negatively impacts sales indirectly as it leads to a negative customer experience.
A company that sells on multiple channels must be concerned with overselling, which leaves customers unhappy. Customers are more likely to cancel an order if they're left waiting for their product too long. This can harm your reputation and reduce future sales opportunities as well as damage customer relationships in general. Further, should a customer face this multiple times, they are likely not to ever buy from your store again, resulting in a lost customer.
Inaccurate Inventory Forecasting
Data quality is crucial in eCommerce, and it's difficult to backtrack once inventory forecasting is unaccounted for. About 54% of sellers still lack the software they need for this process, according to Zentail's 2018 Seller Survey; so most rely on manual calculations that are often based on 30, 60, or 90-day models which don't account for new buying behaviours nor scaling up products at a moment's notice.
One of the major downfalls to expanding your sales channels is that it requires you to expand fulfilment footprint across multiple warehouses which then splits stock between locations. This offers greater coverage but comes with a range of challenges for marketplace sellers. Splitting orders can lead to an increase in shipping costs, longer delivery timelines – creating a complex workflow for warehousing and sales channels if a strategic approach is not taken towards inventory management.
Increased Order Defect Rate
A seller's ability to provide a good customer experience is determined by the Order Defect Rate (ODR). It includes orders with one or more defects represented as a percentage of total orders during a given time. The three key determinants include:
Negative Feedback (from customers)
A-to-z Guarantee Claim (from sellers)
Credit Card Chargeback Rates (from sellers)
Cancellations (both, sellers and customers)
Returns (from customers)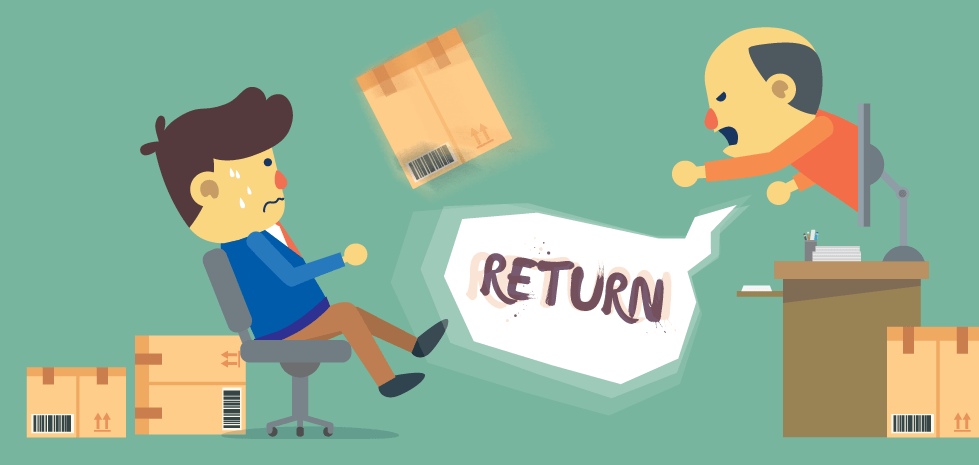 If you don't have an inventory control system that works properly, your seller performance could be negatively impacted. On Amazon, if the ODR (Overdue Delivery Rate) is 1% or higher, a suspension may occur; on eBay and Walmart it's 2%. Issues with understocking items or incorrect data can make for a poor storage method, killing efficiency across warehouses.
What To Look For In A Multi-Channel Inventory Management Software?
Finding the best multi-channel inventory management software isn't easy, especially with so many options out there. It is also because of this reason that you should consider your specific business needs and how many warehouses you have, as this will help you check all the boxes and ensure it's the right platform for use within your organization and best suited for all your inventory management needs.
In a multichannel world, inventory management can be complicated. It requires you to know the unique capabilities and integration required for selling and refilling your products – which varies from one business to the other. Selecting tools that help prevent redundancies will give better workflow results. You must consider the following factors while selecting a real time supply chain tracking software for your business:
Inventory Forecasting And Control
Before you commit to a certain system, we suggest looking at inventory control and forecasting. It's in your best interest before committing because these are the cornerstones of your inventory management. Keep in mind –
Flexibility In Stock Keeping Unit(SKU)
Software with SKU flexibility can help you track inventory across all channels, monitor best-selling products.
The most efficient software allows businesses to track individual products and components independently along with tracking bundles or kits of items if necessary. This type of SKU (Stock Keeping Unit) freedom opens up access to your product data at the drop of a hat for better managing your inventory across multiple distribution channels which helps refill on time as well as monitoring what is selling in stores the best.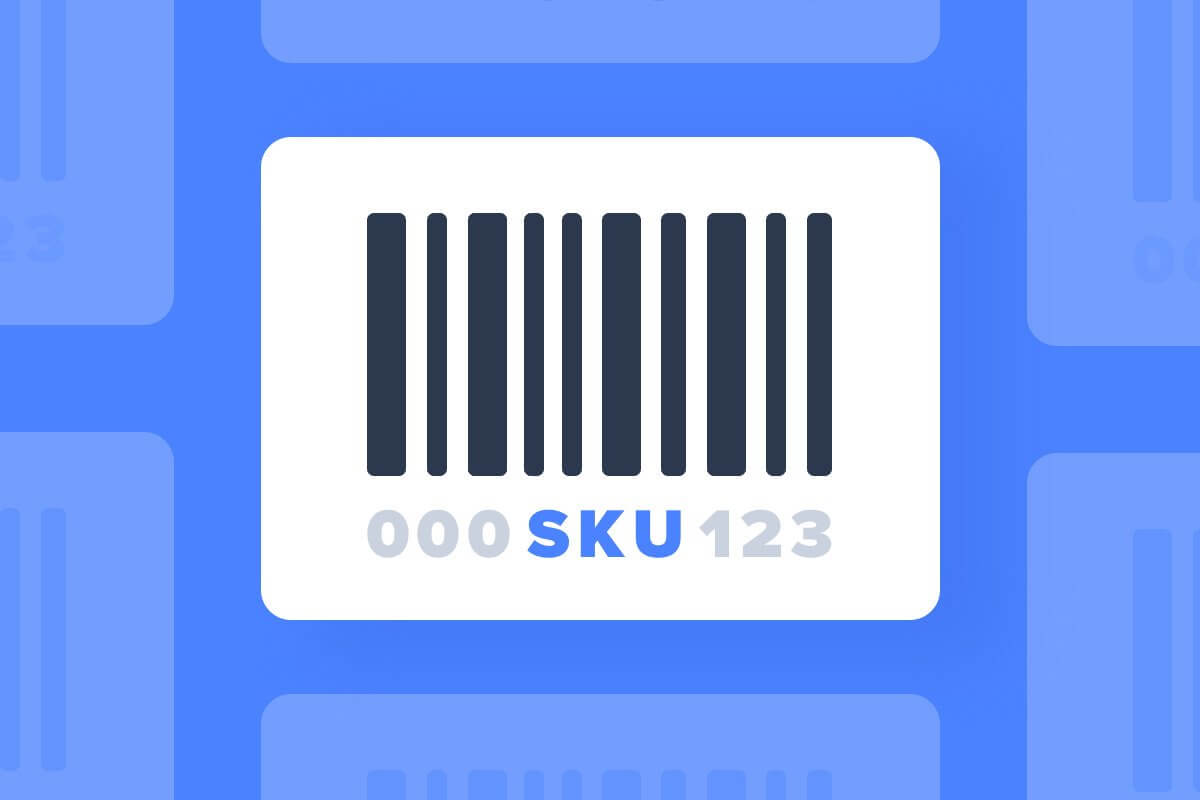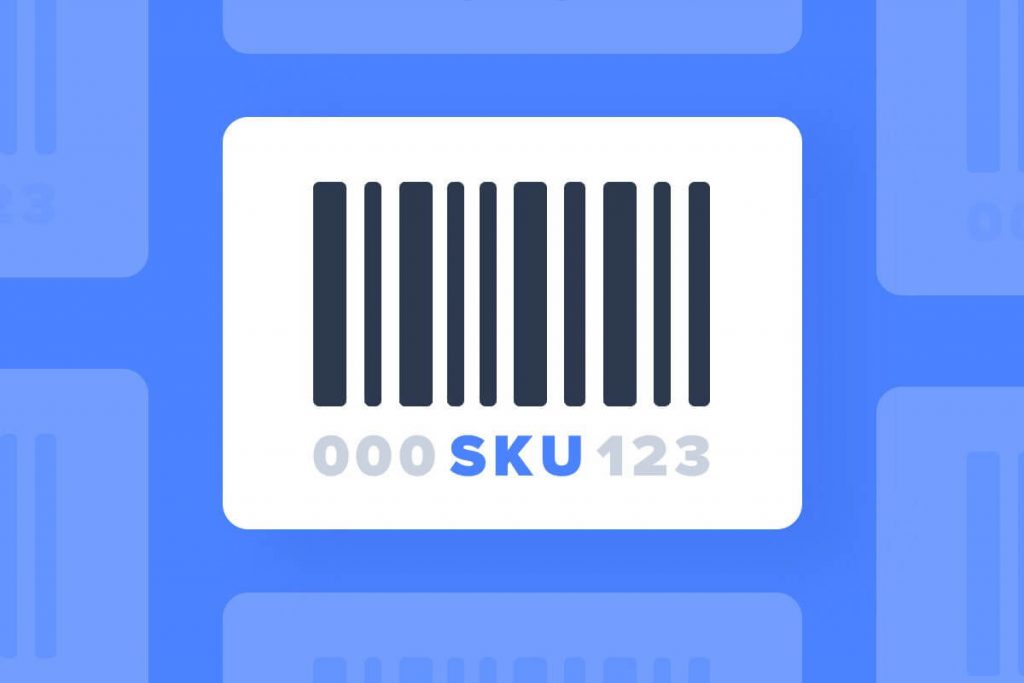 Tracking sales data for years is essential in inventory planning. This has been important as eCommerce adoption increases because brands and marketplace sellers with accurate forecasting are better prepared to capture gains from COVID's accelerating trend.
The best way to manage inventory across the board is with a central source of all sales data combined. The goal should be for each channel's information to come together in one place so you can see per item, how profitable it was and what your overall revenue was from that item on every single channel.
Barcoding And Scanning
For larger businesses, barcoding, and scanning makes it easier to get real-time data from warehouses. This is essential for keeping stock accurate across all locations with constantly changing inventory levels.
With the right barcode systems, inventory management becomes a walk in the park. Unfortunately, not all multichannel software is compatible with these tools, and your operations might suffer as a result. Check that everything works together and ensure any stock scanning apps you use work well with your system of choice – Scout or Barcoders are two we'd recommend.
Analytics
The inventory analytics within your software should influence the effectiveness and efficiency of the tool. This is why it's important to research what reports are provided by this software, then prioritize in-depth access for certain data that you need. Be sure the business intelligence collected is both actionable and measurable so improvements can be made as needed based on how well sales go with using this software over time.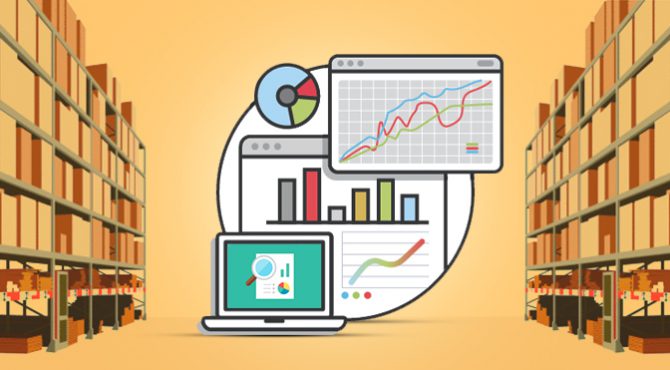 Customization And Configuration
Customization of inventory management software is not always easy. However, the more customizations and integrations you can use with your multichannel platform, it will be easier to implement. Be sure that there are options on an App Store or directory for certain integrations to customize this system successfully.
Best Multi-Channel Inventory Management Solutions For Business
While some multi-channel inventory management software is cheaper and only provides basic capabilities, others are built to support end-to-end operations.
Basic multi-channel inventory management software meets the needs of every business type, these platforms offer automatic stock updates and alerts when an item is running low. They also provide simple sales reports or cost analyses as well.
The output for robust multichannel inventory management systems is numerous. They can integrate into a multitude of sales channels, services, and are more scalable to your business needs. These tools provide many solutions by optimizing product data listings pricing, etc., playing well with 3PLs that use the information to pick, pack, and ship items as efficiently as possible.
The multi-channel inventory software market is fairly competitive. Many options will help your business expand and free up time to focus on other aspects of business growth.
Sellbrite
Sellbrite provides an integrated inventory management interface that makes it easy to see and manage all of your items across every warehouse. You can sync stock for multiple sales channels, or you can customize it to specific platforms, showing from certain warehouses. It integrates with numerous e-commerce sites including Shopify and WooCommerce, allowing you to list products simultaneously from a single listing page.
ZapERP Inventory
ZapERP Inventory – a SaaS-based solution, brings order, shipping, and inventory management functionalities to an automated central platform. It facilitates multi-channel orders fulfilment and ensures back-end processes run smoothly while tracking real-time inventories in sync with major marketplaces like Amazon, eBay, etc., shopping carts such as Shopify, Magento, WooCommerce. Accounting software QuickBooks & Xero to ensure seamless integration across business operations without any downtime or technical issues which provide complete visibility of the entire process from start to finish.

Using ZapERP, you can manage your inventory better and get a good grip on it at any location. With Product management software features like multi-channel sales (Shopify, Amazon, WooCommerce, etc.), you can easily track all of the stock in one place! Some eminent features of ZapERP include:
Inventory Management
Warehouse & transfer lists
Stock Take
Trade – Purchase Order & bills
Sales, invoicing & Quotes
Pick, Pack & Ship
Returns Management
POS (Point of Sale)
CRM Functionality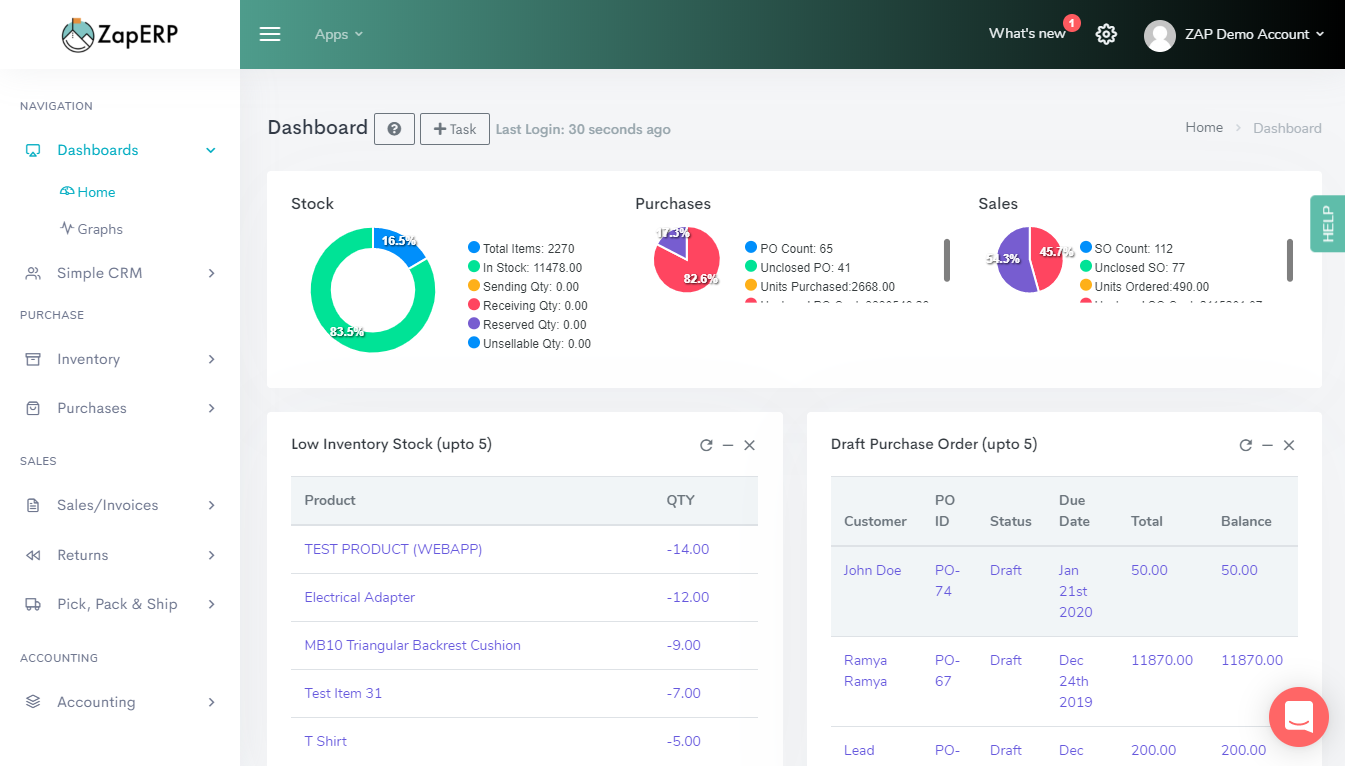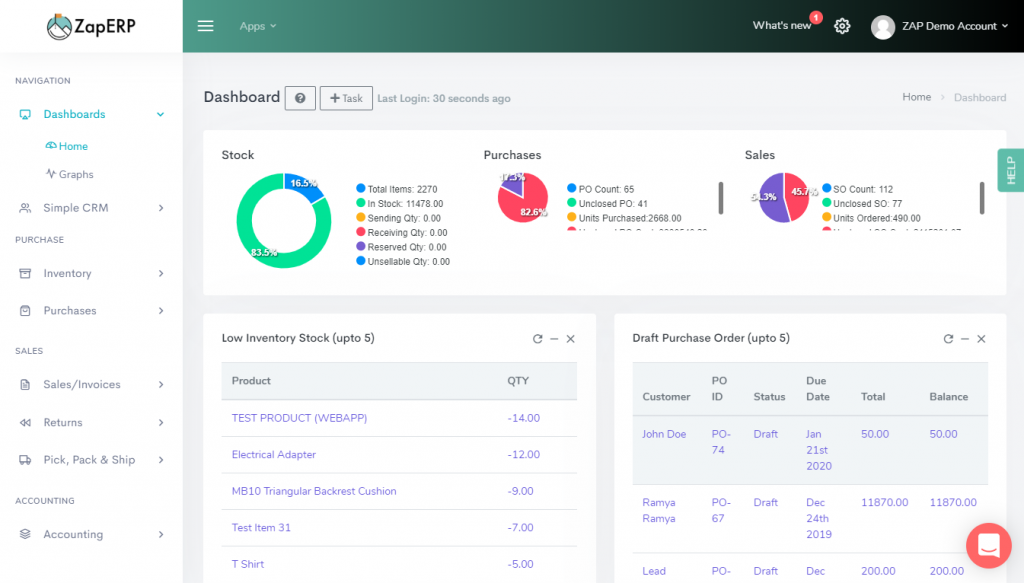 Ecomdash
Ecomdash lets you manage inventory across all major eCommerce platforms, and helps differentiate between manufactured and handmade items. You can even track the materials used to create individual products, as well as group bundled or multi-pack products for easy management.
ChannelGrabber
This multi-channel inventory management software automatically updates inventory across platforms. The suite of other tools includes product listing, order management, invoicing, and shipping as well as messaging.
Sellware
Through Sellware, users can either manage inventory directly from their eCommerce store or within the platform itself. You can connect all your channels and sell anywhere. Like most other options, Sellware also offers multiple integrations with other platforms for logistics, accounting etc. You can create product listings, automatically synchronize inventory and centralize order management.
TradeGecko
TradeGecko is a popular option for retailers who are looking to streamline their inventory management process by bringing together all of the necessary channels in one easy-to-use platform.
TradeGecko's core primary function is to keep track and manage an integrated multi-channel inventory list, with support across multiple platforms including WooCommerce, Shopify, Amazon eBay, Wayfair Etsy Magento ShipStation QuickBooks Xero Fulfillment by Amazon. This eliminates manual work that could be done on each channel separately. TradeGecko provides B2B integrations, its customizable eCommerce platform with payment processing, and an iOS app to manage your inventory on the go.
Orderhive
Orderhive makes inventory management easy and accessible. It comes with a colorful, user-friendly interface that allows you to access all of your data in one place as well as create various reports about the performance of your business and how it's growing over time.

The integrations that Orderhive offers make it an ideal choice for multichannel retailers. There are several options available, all of which help you manage your orders and inventory across multiple channels including Amazon, eBay, Etsy & more.
Ordora
Ordora can be a great option for multi-channel business owners who need to consolidate all of their inventory and sales channels into one system. While the interface is not as user-friendly, it does offer many features that might make up for this tradeoff such as "kitting" which allows creating product bundles; thus enabling you to sell them on multiple sites at once.
The Ordora web app has a simple interface with tabs along the top for multi-channel orders, shipments, and products. All your most granular controls are under their corresponding tab so you never have to click around too much to access functions or information that you need at any given moment.
Stitch Labs
Stitch Labs is a high-growth multi-functional eCommerce platform that can handle your order management, shipping management, operations management, and reporting. Stitch Labs' interface is similar to many other web apps with a left-hand sidebar that navigates between tabs and menus. This makes the array of inventory management and reporting options very accessible.
Currently, Stitch Labs offers integration with three online marketplaces, namely – Amazon, Etsy, and eBay. This is a major setback for Stitch Lab when compared to other inventory management solutions. It supports only three of the sales channels used by multi-channel retailers today. But on the plus side – Stich labs does support certain platforms like WooCommerce ShipStation QuickBooks Fulfillment by Amazon Square which could come in handy for an eCommerce business.
External Accessories For Multi-Channel Inventory Management
The first step to a successful multichannel inventory management system is choosing the right software. You may need hardware components depending on how your company operates for smooth product flow throughout each channel of distribution. There are many external accessories and you can integrate them with your existing system. Some of the popular ones are:
Barcode Scanners
Barcode scanners are a huge time saver for companies with multiple warehouses and changing inventory. You can collect warehouse data easily, as well as streamlining stock control and decreasing fulfilment times—that's not even mentioning the risk of delays they mitigate by taking out the most tedious parts of an inventory system.
While looking for an apt multi-channel inventory management software for your business, check for solutions that integrate barcoding accessories. Automating updates is a great way to streamline communication and keep customers in the know about their shipments once they have been sent off from your warehouse.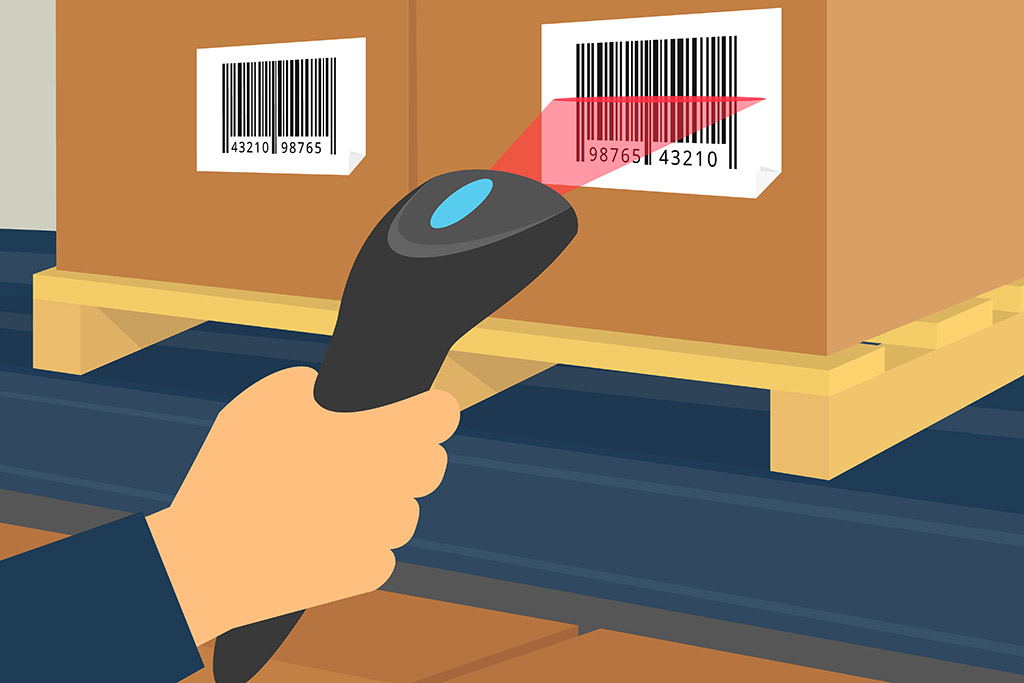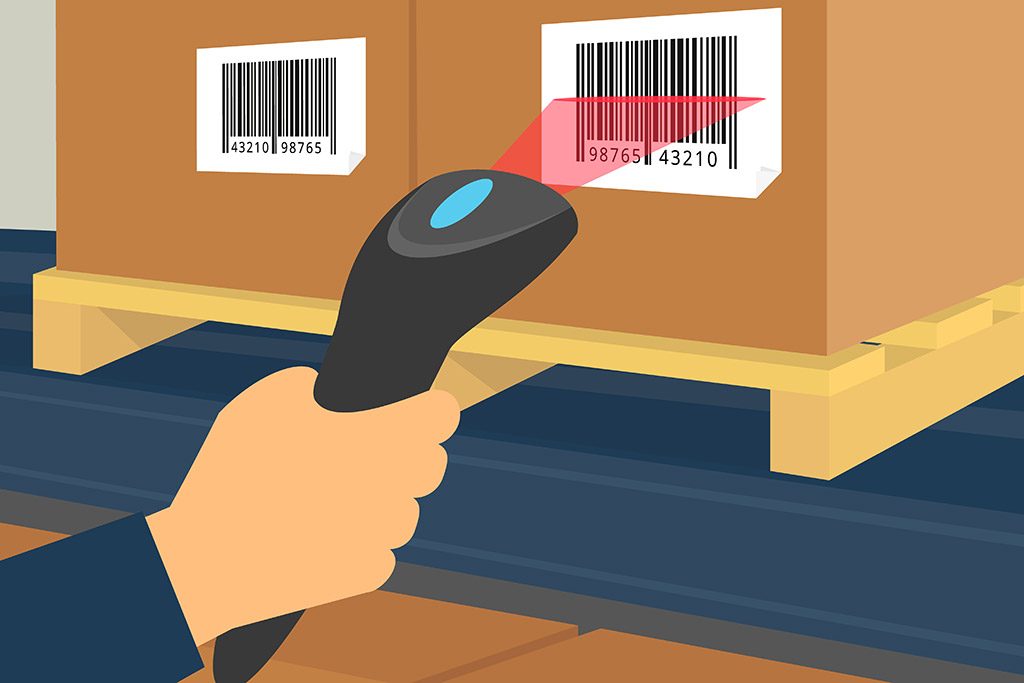 Counters
Inventory counters keep your business running smoothly and accurately. With each listing SKU that sells, inventory counts will immediately deduct items from the master SKU to prevent overages in warehouses across locations. These updates are sent every 15 minutes to sales channels so you know where your products stand everywhere at all times with these expertly accurate inventories.
Pallets
Inventory management is a must for warehouses, and it's made easier by pallets. Inventory can be separated into units that are quick to count & track with barcode scanners on the pallets. Pallet boxes hold more products without breaking because of their strength.
Forklift operators can not only place pallets on high shelves, but they also open up tons of vertical organization possibilities. Warehouses can store products two or more shelves high with just a simple slotting-in process that will save countless hours when placing and removing items from these higher levels in a warehouse.
Multi-channel inventory management software is essential to any business that wants to be highly functional and effective. Companies of all sizes need the most efficient multi channel inventory management strategy possible; one that optimizes the customer experience and provides a smooth customer journey while also balancing budgetary and operational restrictions..
Multi-channel inventory management can be a major headache for any multichannel business. Potential stockouts to confused orders – there are various ways inventory management can go wrong without the right tools. Get ahead of these issues by identifying operational problems that will only get worse when new channels are added on top of existing ones. Take some time to explore all your options. In the meanwhile, check out ZapERP Inventory, it's FREE! You can also schedule a demo here.