Loading…

In the recent past, various factors have contributed to the paradigm shift in the purchasing pattern of buyers. Most customers have gone online to ecommerce websites to save time, energy and money and now even to follow social distancing norms. Online selling sites have revolutionized the way Indian buyers shop online. Amazon.in and Flipkart are the most trusted e-commerce marketing companies. They allow Indian sellers and businesses to list their products and with the right advertising sellers can reach out to millions of customers, the moment their product goes live.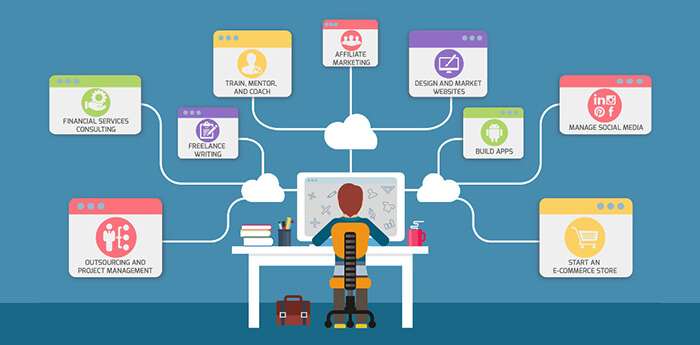 Advantages of being an online seller:
Access to a large number of registered users

Review system enhances the Brand value if most reviews are positive

Efficient return and order management systems in place and customer redressal

The sellers can receive good deals with advertising support from ecommerce companies
Disadvantages of being an online seller:
During peak season, huge discounts are offered by ecommerce portals, thereby reducing margins

No support is received from these portals for return management and disposal of damaged goods, which remains a challenge for the online sellers to handle themselves

Sellers can't do direct promotion of their products, as they have no control over the pages where their products are listed/ displayed
Most Popular products on ecommerce platforms:
Apparels/ accessories are the highest selling products – about 84%.

Electronics are 2nd Best at 71%

Beauty and personal care products are at 3rd place (64%)

Books at 62%

Household products at 61%.
Registration/ listing of products on Amazon.in: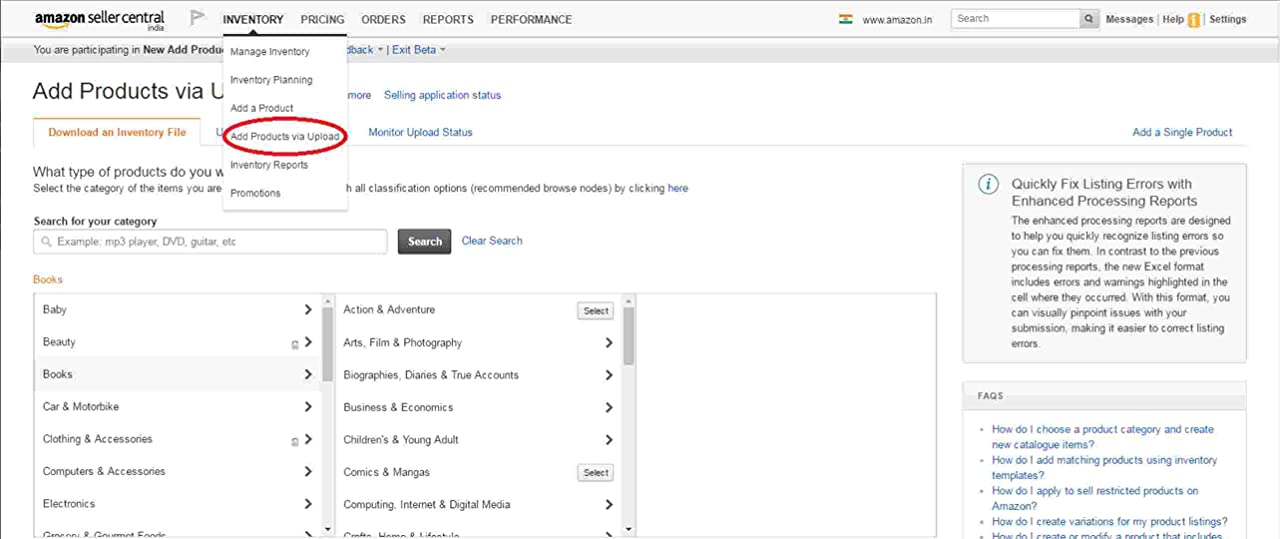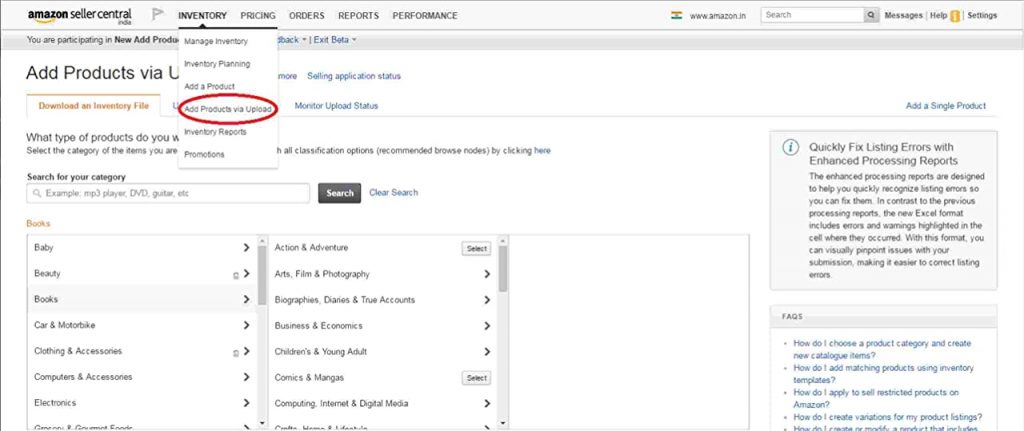 Amazon.in is the world's largest ecommerce platform and has more than 5 lakh big and small businesses sell on Amazon.in today.
You can register on this link for registration to start selling on amazon.in. After registration, you need to create your Amazon account, followed by submission of PAN Card/ GST documents along with bank details. On receipt of a verification call from Amazon, you are ready to start selling.
To list your product, one of the following methods may be applied:-
1. Using an online seller app:
The Amazon seller app has a scan button on the top right-hand corner of its home screen, which helps in scanning the barcodes/ UPC, EAN or ISBN on your products. If the barcode already exists, then product matching needs to be done with an already existing product having the same barcode. In such a case only offer details of your product are to be added on that page.
2. Using Product matching feature:
The product matching feature made available by Amazon helps to check the possibility of the appearance of the same product many times on the online selling site. Since Amazon is one of the largest selling ecommerce platforms, most products would already be listed on Amazon.in marketplace. Whenever a product is to be listed, it is first matched with existing products. and if found matching, then offer details such as price, quality and shipping details of the new product are to be added on the detail page of the already existing product. Otherwise, a new detail page needs to be created.
3. Using 'prepare your listing feature':
Products can be listed using 'Prepare your listing feature' available in seller central. If the product information is available in an excel file with product information in it, then a listing can be created by clicking on 'Prepare your listings'> add a product and uploading product file, confirming categories & matching product information.
4. Using an ecommerce template:
If the number of products is very large, then a custom Inventory template allows listing with a minimum set of attributes in an excel sheet, containing all details about every product in a single template. There are 2 options on Amazon India seller central account under inventory tab- 'Add a product' for adding single product & 'Add products via upload' for creating bulk listings with the help of excel spreadsheet. On 'Add a product page', if you have already listed a similar product, then by clicking 'Sell Yours', all item details will auto-fill in the product detail page. However, if a new page listing is to be created, then all product details will need to be filled manually.
To ensure you are seen as a legitimate seller on Amazon, follow these steps of Project Zero.
Registration/ Listing of Products on Flipkart:

Flipkart is a pioneer of the ecommerce business in India, starting in 2007 is one of Indian unicorns. Currently, over 100 million users are registered on Flipkart.
Using the new link for registration on Flipkart requires basic information such as name, mobile number, email ID and other details. After signing up, you will be asked to provide PIN CODE from where the product would be picked. Once PIN CODE is verified, complete address, GSTIN other mandatory documents will need to be furnished, followed by Bank account details. A seller dashboard will appear on completing all details, which will display the list of pending requirements.
You can later even integrate your amazon listings with Shopify.
For listing a product, open the link- https://seller.flipkart.com and login with your email ID and password,
The seller dashboard will appear.

On clicking listings in the listing section on the top left corner, a listing dashboard within the dashboard will appear. Then click 'Add New Listing' and choose the option 'Add a single listing' or 'Add Bulk listing'

On clicking 'Add a single listing', you will get a list of categories.

By selecting the relevant category, subcategories will get displayed.

On selecting subcategory, you will be directed to upload a photo of the product and then the listing is submitted for quality Check (QC) by Flipkart's Backend team.

Once the approval is received, that product appears under 'My Listings'
For assistance with any issues while creating a product catalogue, you can reach out to expert companies who can also help you in vendor management systems of these ecommerce giants.