How to Drive External Traffic to Your Listing on Amazon
Utilizing outside traffic sources is becoming a prominent issue. Instead of competing for a fixed share of Amazon's search traffic, external traffic provides merchants the chance to step up their game and beat the competition.
Before getting into the specifics of driving outside traffic to your Amazon Listing, Let's quickly define "external traffic" on Amazon and discuss the advantages of driving outside traffic to your Amazon listing.
Why It Is Essential To Drive Outside Traffic To Your Amazon Listing?
One of the main reasons a seller should think about directing outside traffic to their Amazon listing is because doing so raises the rating of their products on Amazon. Because they plainly want to get every last piece of the pie and every last crumb as Amazon adores outside traffic.
Here, we will look at the top four strategies for driving outside visitors to your listing in order to increase sales and revenue.
1. Utilize Facebook Ads
Today, Facebook is used by everyone, thus we shouldn't pass up this opportunity to expand our Amazon listing.


To promote your Amazon items on Facebook, test different ad text and graphics. Each and every merchant must have a Facebook group or page. According to Charles LaRosa of PreparedCooks, "Your Facebook page is a terrific venue to present your items to the correct audience quickly." Keep in mind that whenever you promote your Amazon product listing on Facebook, you are cutting down on the time needed to launch or introduce a new brand. Additionally, it can increase your organic sales, and when your product sales soar, so do your organic ranks in Amazon's SERPs.
2. SEO and Google Ads
One of the best ways to drive outside visitors to your product or Amazon listings is through Google advertising, based on retail guru Daniel Cabrera of Clooms. Your own advertisements that you post on the Google advertising network. Google advertising is done through Google Adwords.
Making your goods stand out is the main goal of Amazon search engine optimization. There are countless pieces of software accessible for Amazon merchants; pick the finest one for selling things and simulating site visitors. Although it takes time to master, Amazon SEO is one of the major factors in growth and success. Email marketing, marketplace advertising, and Facebook advertising are all strategies to direct outside traffic to Amazon listings.
3. Utilize Affiliate Blogs
Nobody has complete control over how many people view your Amazon listings. The easiest strategy to get traffic to your listing from outside sources is to create or maintain your own specialty blog website. This is a fantastic approach to increase the number of people that see your stuff.
Additionally, there are a huge amount of niche websites that are run by content creators that are a part of the Amazon Associates Program. Justin Nabity, the creator of Physiciansthrive, advises adding an affiliate link to the Amazon listing whenever you discuss your product on your blog. This is a fantastic way to increase outside traffic to your listing, and you will get paid every time a reader of your blog clicks the link and makes an Amazon purchase.
4. Make a Stunning Product Video
"A good video has the capacity to bring external traffic to your listing. Internet users spend the majority of their time watching videos on various platforms. You must enroll in the Amazon Brand Registry program in order to benefit from its Enhanced Brand Content video feature. I have noticed that not many manufacturers are making use of this fantastic function. According to John Webster of Gofreighthub, this is one of the best ways for your items to set themselves apart from those of your rivals.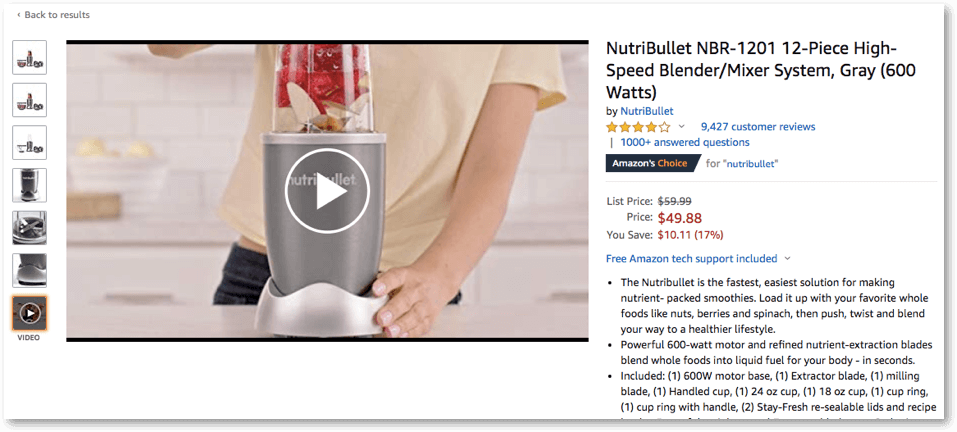 To create a polished, top-notch video of your product, you simply need to use an online video editor. Your customers can benefit from the video because it will answer all of their inquiries about the goods.
Their chances of making a poor buying decision can be reduced by the film. Additionally, make sure the video is well-lit and has a high resolution for aesthetic appeal and a professional appearance.
How can pageviews be increased to drive more traffic to Amazon listings?
Understanding the idea of Amazon SEO is the first step in boosting pageviews on Amazon. Being an Amazon SEO expert is not necessary, but knowing the basics will work wonders. This will boost the search rankings for your product and have an impact on your revenue.
You may improve the number of views on your Amazon product page in the given two ways:
1. Maintain Title Strictness and Modify Pricing
Until recently, the secret to becoming an Amazon top seller was to load your product titles with as many relevant keywords as possible. Today, the story is different. Since then, Amazon has taken action against this behavior.
How do you differentiate yourself from the competitors then?
This advice is provided by Lukasz Zelezny, Managing Director at SEO London.
Building a traffic-generating engine is one of the finest strategies to improve your traffic if you're tech-savvy (or hire somebody to do it for you). Otherwise, make the most of promotions by utilizing them to encourage client reviews. Finally, pay close attention to what your rivals are doing in terms of pricing, advertising, and SEO so that you can outperform them.
The founder of Surf Gear Lab, Marc Bromhall, advises regular price adjustments. Additionally, you must spend money on keyword research to find the ideal search terms to use in your product titles. While exceeding the 200-word restriction won't cause any problems for your listing, it will be hidden from search engines, making it meaningless unless a customer follows your direct links.
2. Use Sponsored Ads Instead
Incentivized For many years, Amazon accepted customer reviews of its products. Your chances of becoming an Amazon best seller may be improved or destroyed by this strategy. If you don't want to break the newest regulations, you must switch to paid adverts. You can decide whether to invest in Google Advertisements or Amazon native ads to work their magic. But bear in mind that in order to place your adverts in front of consumers, thorough research is required.
Final Thoughts on Boosting Amazon Traffic
There you go, then!
Your starting point should be the advice and information we provided in this post. At this point, we advise you to analyze your bestsellers in light of the points we've made in the article to see where adjustments can be made so that customers will start to notice your products. To access deeper insights you might have overlooked, use our Amazon connector to import your Amazon data to Google Sheets.
Consider what is effective for you, and then implement the finest strategies to close the deals you have been missing. After all, on the Amazon marketplace, a minor adjustment could be all that's needed to double your sales.
Maintaining a strong presence on Amazon is as crucial to having a dedicated eCommerce store of your own to bring visitors to your item. Using the enormous Amazon platform is essential to your success. Since Amazon is connected with the eCommerce industry, it is actually a must for sellers.
Here is One More Thing!
Please feel free to utilize the comment section below to discuss your experiences when you start promoting your Amazon listing so that others can benefit from your tactics. Also, connect with ZapInventory to avail of the services to list your business and its products.