Xero comes as a solution for growing businesses to reach a better future. It's accounting software that meets the need of all business owners. Equipped with flexible features and various plan options, you don't need to invest in another accounting program to help your business grows. All Xero invoicing and billing can be managed well with this software.
What is Xero accounting software?
Xero is online accounting software that based in a cloud allowing you to use it for managing daily business task automatically. This software helps small businesses a lot since it helps the owners to get updated financials and run a business from wherever they do. Xero is packed with time-saving, secure, and reliable features that supporting business growth.
Xero comes in a mobile app that can be accessed from various devices including iPhone, iPad, and both Android phones and tablets. It promotes better inventory management as it can accelerate invoicing while tracking sales and buying. There are more than eight hundred third-party apps that can be integrated with Xero to help people in managing their business. There is also a feature supporting the use of multi-currency with hourly-updated exchange rates for more convenient payment. Xero invoicing becomes the most popular feature in this software as it offers easier recurrent invoices making.
How to manage invoices in Xero
Xero offers easier and faster payments from customers to sellers. Many invoices templates available help you to create and send beautiful invoices, also personalize and customize their looks. By using this software, you can add and edit branding time or upload the company logo. Sellers can create reminders and select when and how it will be sent to the customers. As the invoices have been received and payments are conducted, sellers get the notification.
It has great security because all online invoices sent are secured from illegal changes that are different from common PDF files that are attached to an email. Xero provides limited editing to invoices and creates a recording that remains the same as the main invoice actions. To avoid any illegal access on invoices, sellers should use two-steps authentication available both in Xero account and sellers' email account.
Invoicing options provided by Xero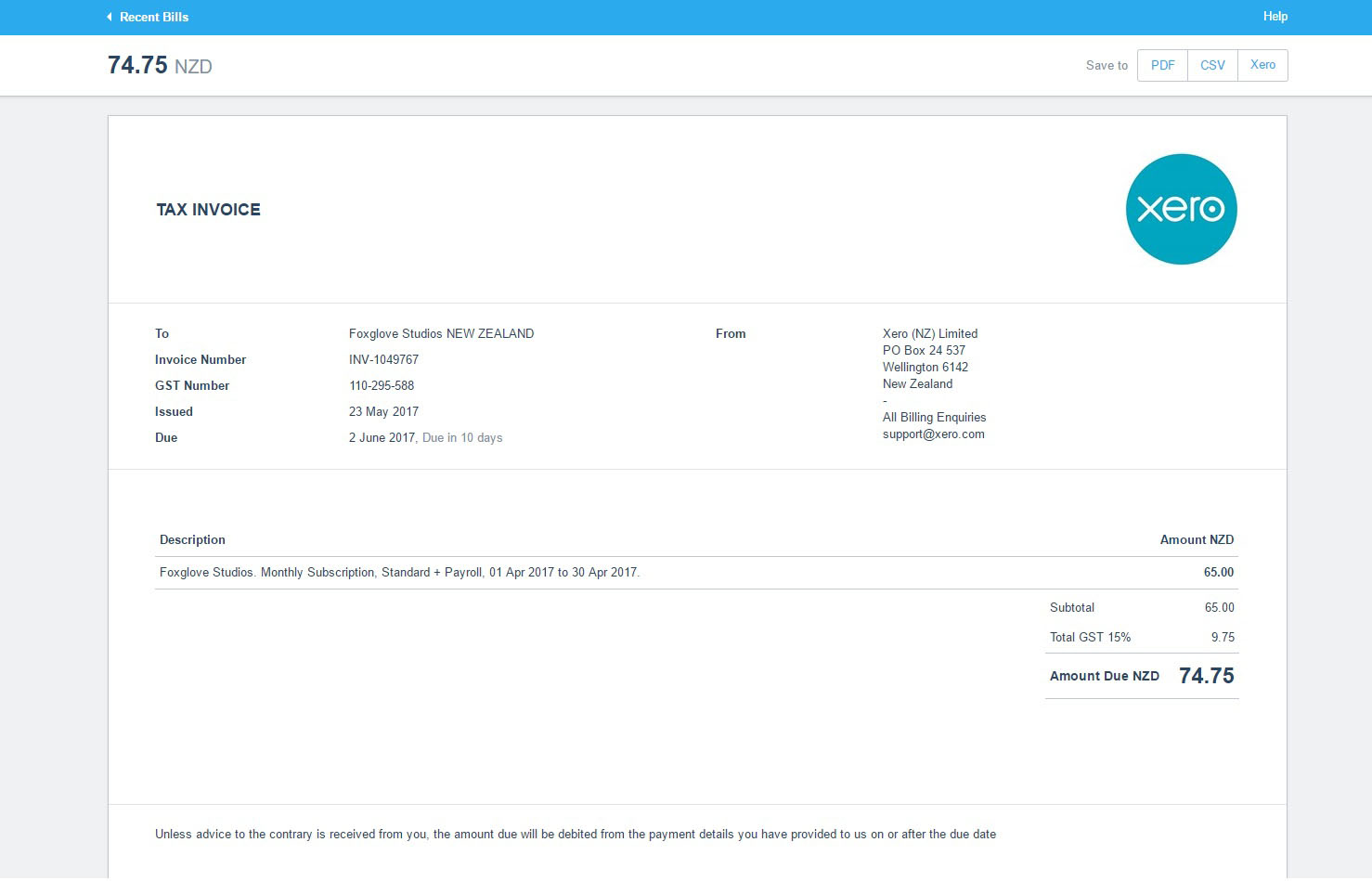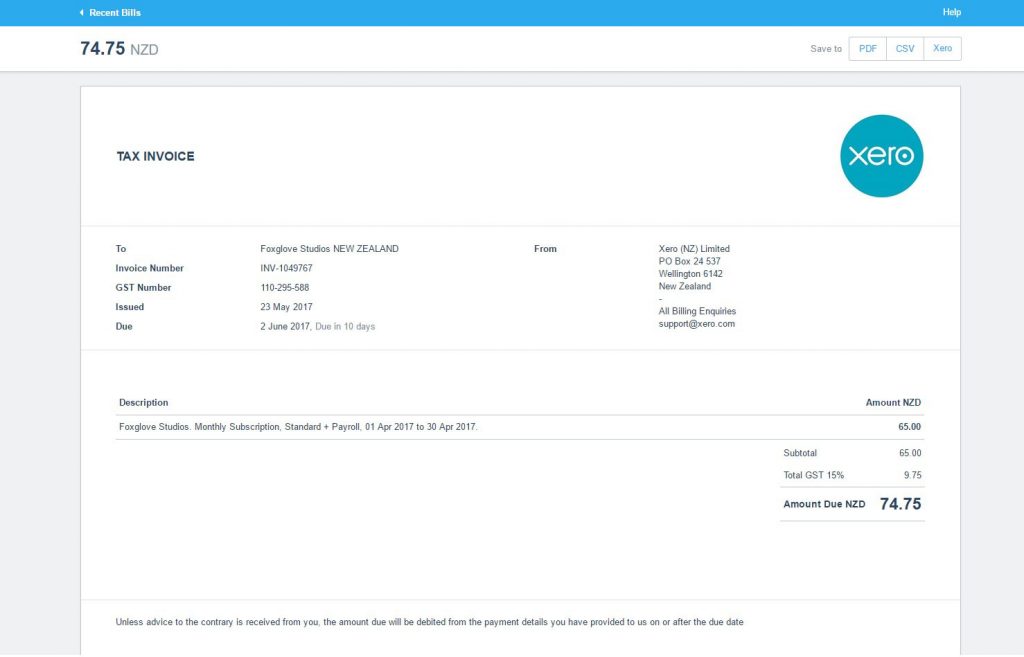 Sellers can enjoy many Xero invoicing options for easier accounting tasks. An option to manage repeating invoices is available as it can make, save, and sent regular invoices for the customers and send many invoices together at the same time. Now, sellers cab enjoy more efficient invoices sending to regular clients and customers take benefit of easier payment for customers since they can pay once for all the invoices. Invoices can be sent everywhere using phones or tablets straight after the job finishes. The invoices include 'pay now' options giving the chance for customers to pay straight away using their debit or credit card.
How to manage bills in Xero
Not only offering easier management to Xero invoicing, but this software also minimizes admin intervention and get the bills paid on time. It promotes efficient business works by reducing the time used by a business admin to pay many bills and switch it to one easy transaction. Bills are put in a bundle and the payment has been scheduled so you can send it once to the customers.
Through the purchase dashboards, everyone can get a thorough overview of bills and purchase orders. People will know and manage the cash flow using charts and graphs and get a notification if the bills are approaching their due date. It helps to conduct punctual payment and building a good relationship with sellers. Xero goes paperless to keep the bills and documents since they are store in the cloud allowing access anytime and everywhere. Stored in one location makes sellers can conduct data entry and attach files into the bills, too.
Billing options provided by Xero
Xero's option allows bills to repeat and duplicate. Xero allows users to make a copy of the last bills and later it can be add or changes whenever it's required. You also can assign to any cost that can afford to the most suitable customers when the bill is received. It prevents you from forgetting the bill as well as secure the profit margin.
Sending a bill from Xero to Xero can be done as long as you get a contact in Xero network key and include in their contact details. To deliver a bill, just add and approve the new bill or find it in awaiting payment. Then, you can send it directly. When the bill has been successfully sent, the receiver will get a draft sales invoice.
ZapERP integration with Xero

Integration between ZapERP and Xero provides automated business tasks such as accounting, managing warehouses, channeling e-commerce, and so forth. This integration helps running an inventory management system automatically and taking care of tedious and time-consuming business processes. That integration includes synchronizing several items including invoices, and bills. Other items that include in this synchronization are return and inventory levels. Integration with sales channels like Shopify , Amazon and others allows ZapERP inventory to sends all invoices to Xero automatically.
To integrate ZapERP with Xero, you need to sign up for ZapERP account using a registered email and password. Choose 'Accounting' in the Apps section and select 'Click to Manage' below the Xero logo. Then, click on 'Connect to Xero' followed by entering Xero email and password for login. Decide the Xero company or organization and click 'Allow access' so ZapERP gets access to the Xero data. After this process, you will receive a message of it the Xero account is successfully connected to ZapERP. Open the default tabs and select all the options available on that page. Click 'Submit' to finish the process.
Bottom line
Managing invoices and bills becomes easier by using Xero. Many options for Xero invoicing and billings help you to do business works more simply and efficiently. Xero even can be integrated into ZapERP not only to enjoy easier accounting tasks but also convenient management on business tasks such as warehouses and eCommerce.