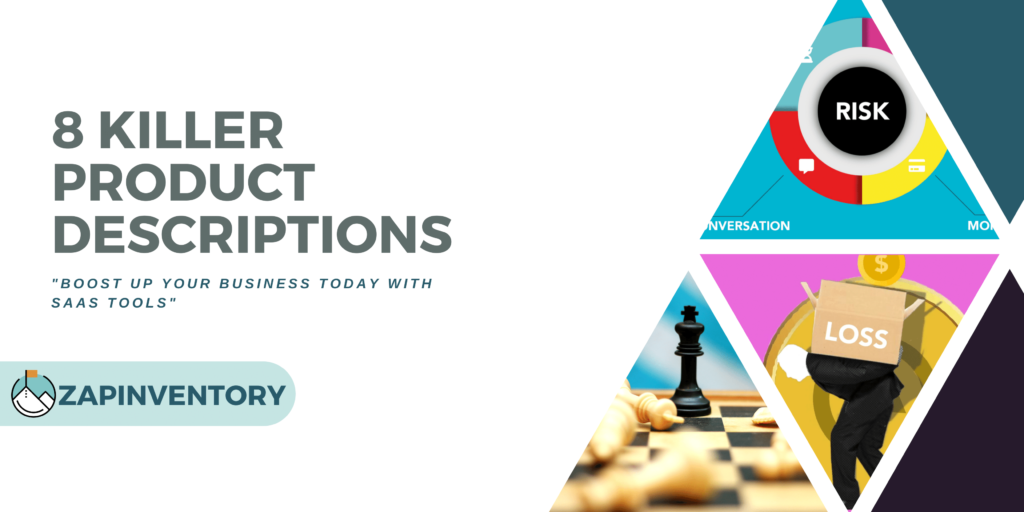 A product description is the marketing copy that explains what a product is and why it is worthwhile to buy it. A product description's purpose is to provide customers with important information about the product's features and benefits so that they are compelled to buy.
However, entrepreneurs, marketers, and even professional copywriters can make a common mistake when writing product descriptions: writing product descriptions that simply describe your products as a supplement to product photography.
Why is it incorrect? Because great product descriptions should supplement your product pages by selling your products to real people, not just acting as back-of-the-box information dispensers for search engines (through search engine optimization should not be an afterthought, of course).
What exactly is a product description?
A product description is a type of marketing copy that includes details about a product's features, functions, and benefits. They are intended to inform potential customers about the product while also encouraging or enticing them to purchase it.
Though there is no single correct way to write a product description, the best ones are often detailed, including information about the problems the product solves as well as how it benefits the user.
What Is the Most Effective Product Description Template?
It is conditional. Product descriptions, like every other aspect of your website, may or may not be required. It must be split tested. Each website has a unique layout, personality, and style, which may necessitate the use of a different product description template.
Some stores may convert best when only bullet point descriptions are used. Others may require a lengthy paragraph or a combination of bullet points and a paragraph. And, in some cases, no copy at all may be the best option. To determine which format works best for you, use A/B split testing tools such as Google Optimize.
Here's an example of a product description with no copy. According to VWO, a split test was conducted by an online store called FreestyleXtreme. Their test included two landing pages: one with a product description and one without. They were taken aback when they discovered that the page without copy converted 31.88 percent better and had a 96 percent confidence level.
The Advantages of Writing Product Descriptions
Product details that have been optimized can help improve your search engine optimization (SEO). You can improve your chances of ranking high on Google by optimizing your item description to include specific keywords. You may be able to optimize your images for keywords without product descriptions, but your product page may not appear high in search results due to a lack of content.
Product descriptions can also help your customer learn more about the product. The product description provides additional product information that the image cannot provide on its own. For example, you probably wouldn't buy a laptop based solely on the image.
As a buyer, you should learn about the laptop's specifications and features. This also applies to fashion — some people may be allergic to certain fabrics and require information about the fabric of the clothing you sell in your store. By providing key product information to customers, you can avoid a backlog of customer service inquiries. It also assists customers in determining whether or not a particular product is right for them, which can help reduce return rates.
A product description can also be used to make a customer laugh in order to strengthen the relationship between your brand and the customer. It can also reassure customers that your product will alleviate their greatest pain point or improve their quality of life in some way.
Choosing the Appropriate Words for Your Product Description
The 11 most influential words, according to David Ogilvy, are:
Suddenly
Now
Announcing
Introducing
Amazing
Sensational
Revolutionary
Miracle
Magic
Quick
Hurry
Using the keywords listed above can help captivate and persuade your reader to take action. These words can be used in product descriptions, headlines, email templates, and other places.
According to Unbounce, there are several words and phrases that people should avoid using in their copy, product descriptions, and other marketing materials.
Among the poor word choices are:
Breakthrough
Innovative
Stunning
Ultimate
Finally, if the words are not accurate, they are poor choices. Calling your product revolutionary when it is not will not help your brand stand out.
How to Write Effective Product Descriptions
1. Create your own.
Use of the manufacturer's product descriptions should be avoided. You can avoid being penalized by Google for duplicate or thin content by writing your own copy. Furthermore, you increase your chances of writing a product description that converts your customer.
2. Make it easy to scan.
Your product description should be simple to understand. Customers can get the information they need quickly by using two sentences that describe the product and several bullet points. If you sell laptops, you should make the specifications into bullet points to make them easier to read.
3. Understand Your Audience
You could inject humor into your products if you sell amusing items such as ugly Christmas sweaters or food-shaped jewelry. Customers who buy those types of products are likely to appreciate an entertaining product description, so your copy should be playful and light. Humor, on the other hand, does not work in all dropshipping niches. You wouldn't put humor in a product description about life jackets, coffins, or other sensitive topics, for example.
4. Improve Product Descriptions
Using a tool like plugging in SEO on your store is the simplest way to optimize your product summary. You should use keywords that are related to your product. For instance, if you sell makeup brushes, for example, you should be specific, such as 'unicorn makeup brush' or 'mermaid makeup brush.'
5. Share a Story
Tell a story with your product description. It could be a story about why your customer requires this product to solve a problem. Or a story about the product's advantages. Or simply tell an entertaining story about your product to entice your customer.
6. Run a Split Test
Remember to split test your product descriptions. Experiment with various formats, lengths, words, and other elements. Split testing your product descriptions can assist you in optimizing your product page to increase conversions.
7. Proofread Your Work
Check your product descriptions to make sure there are no errors. To avoid spelling errors, you can use tools such as Grammarly.
8. Provide All Specifics
Ensure that customers have all of the information they require to make a purchase. For example, if you're selling clothes, care instructions and size charts can help customers before and after they buy. If you sell tablets, make sure you list all of the specifications. If you sell jewelry, include information such as 'nickel free,' as some people may be allergic to certain materials.
Product Description Examples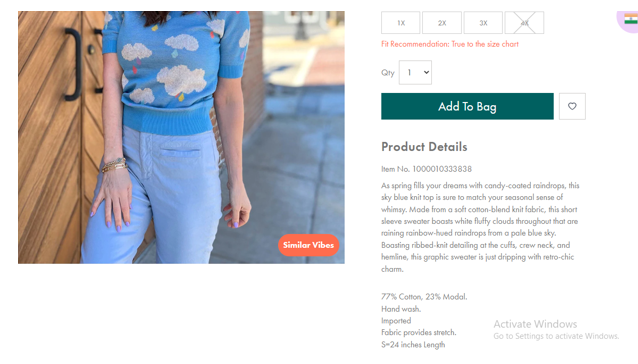 Product Description Examples 1:
1. Write for your buyers: ModCloth
Here are a few sweaters from their collection:
"With this sweater in your wardrobe, you can easily live the local lifestyle of romance, great eats, and effortless sophistication!" (Banned Up to Houndstooth Parisienne Sweater),
"While this cowl-neck sweater provides classic comfort, its bold design is anything but basic!" (Colorblock Sweater with Open Knit Cowl Sleeves),
"Thanks to its cosy knit – with improved fabric to avoid pilling – and V-neck, this cropped cardigan is truly best in class." (From Honey's Crop Cardigan Dream).
The Icing on the Cape A-Line Dress is one example Russo cites as a strong representation of ModCloth's brand voice.
Indeed, "humanizing" your copy is critical if you want to connect with your customers and make them feel valued. This is especially important for businesses that operate primarily or solely online, as potential customers who feel disconnected from your company can easily take their business elsewhere—to a company that knows how to make them feel valued.
Important Takeaways:
Find out who your target customer is and write product descriptions with them in mind.
Encourage more customer engagement with your brand by writing copy that makes your customers feel as if their needs and desires are being heard and met.
Personalize your copy to add a human element to your virtual presence.
Product Description Examples 2:
2. Get right to the point: Apple
As the most recent (and most expensive) incarnation of the MacBook, its product description is in charge of persuading customers why they should pay a premium to own it. To be effective, their copy must highlight not only why this MacBook is superior to the original but also why it is superior to all of its competitors.
The copy of the MacBook Pro accomplishes this by utilizing:
Adverbs ("more", "most"),
Descriptive language ("razor-thin", "featherlight")
Short, enticing sentences ("And it's ready for yours"),
Claims of superiority ("MacBook Pro is built on groundbreaking ideas").
Each sentence speaks to the product's benefits in a concise and descriptive manner, allowing potential customers to understand its purpose and use without confusion.
The MacBook Pro product description is an even better example of copy clarity and disambiguation.
Product Description Examples 3:
3. Highlight how your product will improve the lives of your customers: Hootsuite
You, too, can emulate Hootsuite by associating each product feature with a tangible benefit for your customer.
When deciding which benefits to emphasize, ask yourself questions like, "Does my product make my customers' lives easier?"
Does it make a complex process easier to understand?
Will purchasing my product result in increased productivity? Or is it happiness? Or a favorable outcome?
The truth is that if your copy simply describes what your product does, your customers will be less inclined to purchase it. You must be able to confidently sell the benefits of your product while also tapping into your customers' concerns, needs, and desires. Only then will they feel connected to your product and be willing to buy it.
Important Takeaways:
Put yourself in the shoes of your customers and determine what aspects of your product will pique their interest.
Emphasize the value of your product to your customer and the impact it will have on their lives after they purchase it.
Customers' intentions can be influenced by your copy even before they are aware of them. Simply write in a convincing and engaging manner that effectively addresses their needs.
Product Description Examples 4:
4. Write unique copy for each and every product description (even if there are thousands): Asos
The main copy is as follows:
With our ASOS CURVE collection, you can say goodbye to ill-fitting plus-size clothing. With new shapes and fits for (UK) sizes 18-30, our London-based design team nails your new-season fashion goals with denim, occasionwear, and jumpsuits. Monday to Friday, wear long-length tunics and simple shift dresses or dress up for the party in maxi lengths.
Here are a few examples of how their copy meets the high-quality and unique content criteria:
Instead of a generic product number, a product name is used.
In the "Product Details" section, include product specifics such as "Soft touch cotton," "Crew neck," "Short Sleeves," and so on.
In the product copy, style suggestions for how to wear this specific T-shirt are highlighted ("Work longline tunics and simple shift dresses Monday to Friday, or prep for the party in maxi lengths.")
In the "Style and Fit," "Look After Me," and "About Me" sections, there is practical information about product usage, care, and quality.
What's notable about ASOS is that it's not just mid-priced items like the T-shirt that receive such special details and attention. Even small, inexpensive items like socks and trinkets are described with the same level of detail and care.
Do you use the same special treatment for each and every product of yours?
If your company simply focuses on writing strong copy for your "star products" while ignoring smaller items, you should reconsider your strategy.
There should be no discernible difference in quality between your most and least popular product's copy, nor between your cheapest and most expensive. Going the extra mile to write original, captivating descriptions is just as important as producing, distributing, or advertising your products if you want your customers to buy them.
Key Takeaways:
Every product description should be optimized for both your customer and SEO. Don't just concentrate on your "star products," as neglecting your smaller products will harm your site and brand as a whole.
You will not reap the benefits unless you put in the effort. It unquestionably takes time and effort to ensure that your descriptions are unique and of high quality throughout. But it's well worth it with so much at stake.
An SEO-friendly copy will assist in protecting your website from Google penalties for low-quality content. Just make sure to balance SEO considerations with your customers' needs.
5. Use humor to make your descriptions more memorable: Cards Against Humanity
Cards Against Humanity is well-known for successfully incorporating humor into its branding. What began as a $4,000 Kickstarter campaign has grown into a multi-million dollar business with a devoted fan base.
The company bills itself as a "party game for horrible people," and it is well-known for pushing the envelope (and then some) with its humor and ridiculous stunts. The game requires players to compete to see who can make the most bizarre and amusing card combinations.
What makes their marketing unique is that the humor found in their products also extends to their product descriptions—and their customers love it. Their copy and branding are so effective that they have even persuaded their customers to pay for a box of nothing.
Humor will help your copy and, by extension, your products stand out amongst your competitors. In highly competitive industries, even a minor point of differentiation can provide your company with a competitive advantage and a larger market share.
According to HubSpot, incorporating humor into your marketing efforts can change customers' perceptions of your products. Companies that use humor can turn so-called "ordinary products" into the most exciting—even if there is little difference in price or brand.
All you have to do is find the right type of humor to match the tone of your brand and its customer base. If your product and customers are more conservative, for example, using edgy humor like Cards Against Humanity is unlikely to work. Determine the type of humor that your customers relate to and that complements your brand's voice.
There are numerous ways to incorporate humor into your copy. Here are a few suggestions:
Play-on-Words (check out ModCloth above),
An inside joke with your customer base to foster understanding and bonding with them,
A nod to a recent popular meme or event,
A common experience that your customers will relate with,
Some light joking.
Key takeaways:
Including a sense of humor in your product descriptions can improve your customers' experience as well as your overall branding.
Humour can give your company a competitive advantage and set you apart from the competition. It's a simple way to distinguish your brand among a sea of similar products or services.
Make certain that the type of humor you use is appropriate for both your customers and your brand's voice. Incorporating the incorrect type of humor will make you appear out of touch and have the opposite effect intended.
Product Description Examples 6:
6. Make it Simple to Scan
People have short attention spans and only read about 16% of what is on the page. As a result, your product description must be able to effectively capture that coveted 16 percent.
You can accomplish this by making your descriptions extremely readable.
As in, the buyer can find exactly what he or she is looking for without wasting time sifting through other information.
Include bullet points, short paragraphs of only a few sentences each, lots of white space, and different font sizes in your product descriptions to make them easy to scan.
The scannable page for Health Warrior's chia seed bars is excellent.
Look for easy opportunities to use this readable structure when writing product descriptions for your Shopify store.
Bullet points are an effective way of organizing ingredients and specifications. The story and highlights can be summed up in a single paragraph. The product title can be used to create a heading.
If you make your product description easier to read, you are less likely to lose a potential customer.
Product Description Examples 7:
7. Search Engine Optimization
Almost everything you do on your online store should be focused on optimizing the content for search engines. Search engine optimization (SEO) is the most straightforward method of attracting new customers to your page, which is the first step in persuading someone to buy your products.
The process of optimizing a website begins with keywords, which are typically the search terms used by buyers to find the product they are looking for.
You can quickly determine which keywords are best for your Shopify store with a little keyword research.
For example, "women's black dress pants" is a keyword that could be easily optimized in your online store.
A quick search for women's black dress pants reveals that the top results include some variations of the keyword, such as "women's casual & dress pants" and "women's casual & dress pants."
Look for the words in the descriptions that are bolded to get an idea of what Google is currently ranking.
We can see how they use this keyword on their site to appear in the search results if we click on one of the listings on the first page.
They include the keyword, or a variation of it, at the top of the product page and in the product title.
E-commerce recommends including your keyword in your description for good measure and in accordance with the best SEO practices.
Meta descriptions
Page titles
Product descriptions
Image tags (called ALT tags)
Run your keyword through LSIGraph to generate a list of related keywords to get a better idea of which keywords you could use for your product. This tool crawls the internet to determine which pages rank highest in search engines for your chosen keyword. Then it displays a list of the most frequently used keywords on those pages.
This will give you an idea of what is currently performing well on search engines and can be used in product titles and descriptions.
Product Description Examples 8:
8. Use High-Quality Images
Even if you are an expert at writing product descriptions, you must have high-quality images to accompany them.
Why?
Because 63 percent of customers believe that a product image is more important than a product description or even customer reviews.
As a result, an important aspect of your product description can be found in the image itself.
Quality photos will show the customer all of your product's key features. They will also allow the customer to imagine themselves using this product.
Vitamix, a brand that sells professional-grade blenders, for example, uses high-quality images and videos on its product pages to help close the deal.
What makes this work?
Because research shows that customers who can hold a product in their hands are much more likely to own it. The same can be said for images or videos that entice people to touch them.
Understandably, you may not have access to a professional video production service to create something so spectacular. However, you can at the very least ensure that you provide high-quality photos of your product that clearly demonstrate its benefits.
Product Description—A must!
These eight rules are based on consumer research and have shown an increase in sales. The main takeaway is that your product descriptions should not push your product as much as they should chase about how it will improve your customer's life. And if you can persuade your customers of this, your sales will rise.
Writing a killer product description takes time, effort, and some forethought. While it may not have been a priority in the past, your company should begin optimizing each and every one. With customer retention, brand reputation, and even your site's content marketing strategy at stake, it's well worth putting in the effort to create high-quality, unique, and captivating product descriptions.
To learn more about such facts and figures about the eCommerce industry, visit- zap inventory and get access to the ocean of knowledge.