Having plans to start an online store and looking for the best platform or plugin to make your online store accessible and popular among customers? The most popular options are WooCommerce and Shopify. These platforms offer a suite of choices for small to large businesses to develop their business.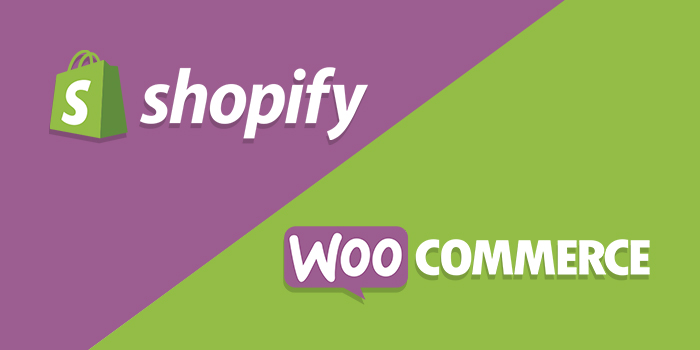 Before knowing about WooCommerce and Shopify, a person should look for these essential conditions when starting an online store:
Pricing Plans:
The cost incurred for owning a fully functional site.
Ease:
Easily understandable even for beginners.
Payment methods:
Paypal, Stripe, credit cards, debit cards, and other payment methods that facilitate the ease of payment.
Add-ons:
Third-party integrations and tools important for growing your business.
Scalability:
It should adapt to the growing needs of the business.
What are WooCommerce and Shopify?
Shopify:
Shopify is an e-commerce platform that lets a person start, design, and manages their own online store on different platforms of mobile, web, browser, desktop, and tablet. It helps the store owner to concentrate on business by taking care of the technical details like hosting, security, caching, etc.
Woo Commerce?
Woo Commerce is a WordPress plugin developed by "Automattic." It lets a user sell products and services through their WordPress site. It helps in selling products, inventory, shipping, secure payments, and the other add-ons that are required to make  WordPress site work for the user.
On the whole, it may seem that WooCommerce and Shopify both look good and the best option would be the option that suits the personal needs of the shop owner.
Comparison between Woo Commerce and Shopify:
It is a fully hosted secure website that offers many customizations like designs for your site, but it is restricted to Shopify and its add-ons collection.WooCommerce has the same options as Shopify but also comes with the extra advantage of developing your own integration and plug-in that can be submitted to Word press for retailing them as well.
Shopify has powerful API and Add-ons in its App store that contains both free and paid apps. It handles the technical aspect of your site, but as the business grows, expenses will also grow. The user can avail of the enterprise plan that will adjust to their business's scalability.
Features

Shopify

WooCommerce

Cost

Shopify offers three pricing packages. The Basic package is $29, and the most advanced package retails at $299.

Woo Commerce is a free plug-in that comes with Word press which included the expensive domains' certificate and web hosting, but now several hosting companies offer various WooCommerce hosting plans that can significantly reduce costs.

Ease of use

It is a plug-in that needs to be installed and updated including maintaining a backup and secure your site. However, the user gets a free handle on customizing their site. The user should also integrate payment apps like PayPal and Stripe by signing up.

Payment Gateways

Shopify

has plenty of payment options like Stripe, Paypal, Amazon payments including its own payment gateway Shopify Payments that is powered by Stripe but charges an extra transaction fee of 2% on every transaction through third-party integrations that can reduce to 0.5% by subscribing the $299 plan.

WooCommerce comes with PayPal and Stripe payments by default. As it is a self-hosted platform, there is no transaction fee for the bank payment gateway. There are also many payments add-ons for regional and less used payment gateways as well.

Scalability

Woo Commerce is a self-hosted platform meaning the technical details need to be taken care of by the user. Even though there are plenty of resources of Woo Commerce offers, the user has to be on a constant alert that the resources they have are beneficial.
These points will help an online retailer to choose the best option between Woocommerce and Shopify that fits their requirement. Shopify offers a hassle-free solution whereas WooCommerce is a cost-effective solution. Before zeroing on one platform, the user has to be clear about their requirement for the online presence that will help in making the correct decision.
Image Courtesy: Trellis