What is a subscription-based eCommerce model?
The subscription business model is becoming more and more popular in the e-commerce industry. This model is becoming a popular choice for companies as it provides a steady stream of revenue, which is consistent and predictable.
The subscription business model is a way to generate revenue from a customer who signs up for the service. For example, Netflix and Amazon Prime Video are subscription models where customers pay an annual fee for the service that they can cancel at any time. The subscription business model is becoming more and more popular in eCommerce because it provides a way for customers to buy products without paying upfront.
The monthly fee is usually less than the cost of buying one product at a total price. Customers can also save money by paying for multiple months in advance or during special offers.
Subscription-based eCommerce business models are the most popular and easiest to implement. They are also one of the most profitable. This type of model is often chosen by companies who want to offer various products.
Types of subscription-based models:


Subscription models are classified into three types:
1) Consumable's replenishment
The replenishment subscription model allows consumers to automate the purchase of commodities such as flowers, body care products, diapers, etc. As an example, consider Amazon Subscribe & Save.
2) Curation/discovery
The discovery model or curation is intended to surprise and please the user by giving new things or highly tailored experiences in categories like fashion, cosmetics, cuisine, etc. For instance, Birchbox.
3) Bargain/access model
 Bargain or access subscribers pay a monthly fee to receive discounted prices or members-only benefits, primarily in the clothes and food areas. NatureBox, for example.
Curation is the most popular model, indicating a strong need for tailored services, followed by replenishment and access models.
Here are some more examples:
Fixed: A single set price for a specific group of goods/services for a set period.
Limitless Use: A set charge for unlimited use of a group of goods and services. The service can be used alone or in a group setting.
Pay as you go: This is often referred to as a convenience model. Users only pay for a product/service when they use it.
Subscriptions for Premium Members: Users pay an introductory access price to use products/services, but additional costs are levied to access premium content.
Freemium: In exchange for a user's contact information, essential services are free.
Now that you understand what subscription-based eCommerce is all about, have you ever wondered why many firms are experimenting with it?
The trend for a subscription business is rising as people are more likely to buy things they need regularly. Subscription businesses can be found in many different sectors, such as the food industry, clothing industry, and entertainment industry.
Customers are more likely to pay for a monthly service that provides food on demand than to purchase groceries the food industry. Subscriptions in the clothing industry allow customers to get clothes when they need them and not worry about going shopping for clothes every few months.
The entertainment industry also relies heavily on subscription services because people are less likely to buy music or watch movies when they want them. Instead, they enjoy a service that provides it all at an affordable price.
A subscription-based business is a recurring revenue model where customers regularly pay a subscription fee to receive a product or service.
Tips for starting a subscription-based eCommerce business:
Determine what your product or service will be.
Define the number of subscriptions you want to offer (e.g., monthly, quarterly, yearly). -n Determine how much your product or service will cost per month/quarter/year.
Decide on how long an initial trial period you want to offer (e.g., 30 days, 60 days).
Decide on how often your customer will be charged after their trial period has expired (e.g., monthly, quarterly, yearly).
How can you sell your knowledge with subscription-based e-commerce?
If you don't want to run a membership site but still want the benefits of a recurring revenue stream, you could instead offer an online course or a series of lessons.
This is a great way to create an online course that can be marketed and sold repeatedly. You might even consider making an annual subscription for your course.
You could also sell products as part of your membership. If you have experience in digital marketing, this is a great way to put those skills to use.
You could create an eBook or other digital product and then offer it as part of the membership package.
Another idea is to offer access to your expertise in the form of coaching sessions. 
This will work best if you have some experience in personal development or life coaching.
Here are the top five creative and profitable business ideas to start with subscriptions.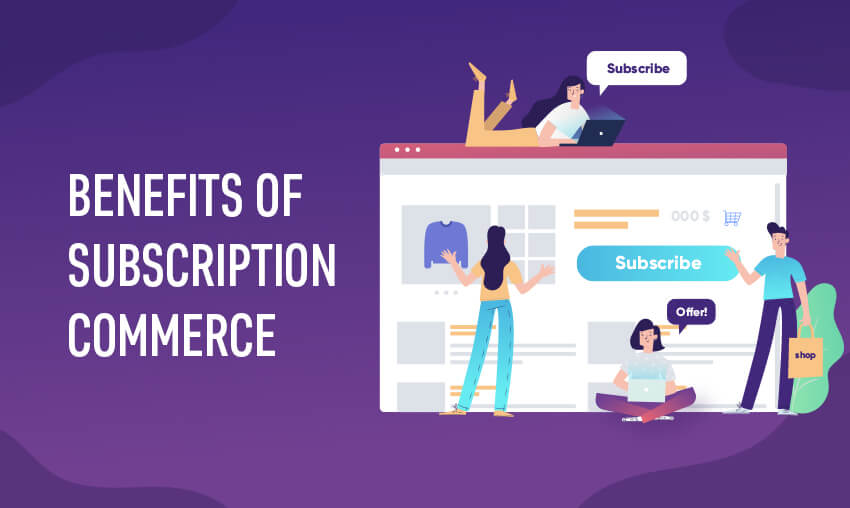 The first one is a monthly subscription service for stylists to pick out clothes for their clients.
The second idea is a monthly subscription for people to get new furniture delivered to their homes every month.
The third idea is a monthly subscription where customers can get unlimited access to an app that provides them with recipes and cooking tips every month.
The fourth idea is a monthly subscription for people who want weekly deliveries of healthy snacks or foods at their doorstep every week.
And the last one is a monthly subscription where customers can get unlimited access to an app that provides them with workouts and meditation. 
We hope that this blog post has helped explain what is a subscription-based eCommerce model in eCommerce. ZapInventory is an integrated, multi-channel inventory management software for businesses of different sizes, especially eCommerce businesses to help them manage their inventory across all their sales channels. It's got some super cool features like order management, warehouse management, purchase order management, accounting & invoicing, and reports & analytics. They also offer a FREE trial of the platform, and if you'd like some additional help in getting to know the platform, just schedule a call here. 
Also Read: What Is B2B SaaS? Top 10 B2B SaaS Companies