If you own a brick and mortar business, you must be well aware of the ups and downs of converting digital marketing into real foot traffic. In this blog, you will be finding new, simplest, and more direct ways to stay in touch with your customers. The way will be Google Business Profile and formerly it is known as Google My Business posts.
Google is the place or to be specific; search engine, where new and potential customers go to anything about a business. According to a study, Google serves 5 billion searches for "restaurants" alone every month. It is one of the first places your customers will go and search about your opening hours, busy time, closing hours, location (including other geographic locations), and latest update. Also, it will let your customers know about your customer service, atmosphere, discounts, and other offerings.
Your Google Business Profile posts are designed for customers who are already looking for you, not like content for the other big social platforms. Neither you are competing with scary titles or baby animals nor do you need to grab attention or pluck heartstrings. You just have to state the validities preferable with some enticing visuals and impeccable copy.
Once you have optimized your Google My Business profile with all the latest information, now what's the next step?
Do you also have a question on is it worth the effort and time to include your Google Business Profile in your social customer service strategy and social media calender?
The short answer to this question shall be: Yes, probably.
The medium answer to this question shall be: Google My Business is pretty opposite of, let's say, starting a YouTube channel. The rewards are pretty much high, but the time, expertise, and expenses involved are all low.
Now, if you are looking for a long and appropriate answer, read on.
Via this blog, we shall be discussing the best practices for creating the finest Google My Business posts to interact directly with your customers. This translates to improving customer experience and your business's bottom line simultaneously.
How to post to Google Business Profile
Google My Business posts are petite and elementary updates for interacting with people who are directly and actively looking for information regarding your business or other businesses like yours.
One of the prime reasons why Google My Business posts are so necessary is because Google gives priority to quality data in its search results. So you have to be diligent in providing your customers the information of what they want and this may well improve your search rankings.
For instance, if you own an ice cream shop and it is situated in London, then you will have a higher likelihood of showing up in search results when someone searches "ice cream shop London".
Now without any further ado, let's jump to the points for posting for your Google Business profile.
Set up and optimize your Google My Business Profile
If you haven't already optimized your Google My Business profile, firstly do that.
Once you have your Google Business Profile up and running, you can make posts in some of the following ways:
By signing in to Google My Business.
By downloading the Google My Business mobile app.
Or by using My Business to integrate your Google My Business strategy with your other social media marketing handles. (For more details on My Business, get in touch with us).
2. Choose the best type of posts to achieve your goals
In the menu, click on Posts, and then select your post type.
At the least, each and every Google My Business post features a text, an image, and a call to action button. Some posts also consist of time constraints. It all depends on your goals; is your summer patio open? Are you organizing a book signing? Decide with one of these given options:
What's New: Basic information and announcements about your business.
Events: Add your online or live events; make sure that your post will need to contain a time, start, and end date.
Offers: Make an announcement regarding discounts, limited time coupons, promotions, or sales; for this also, make sure to include a start and end date, and you can also include a coupon code.
Products: These types of posts help you feature one or more of the products you have in your Product tab (that you need to set up separately).
Note: As of the beginning of 2020, Google My Business is also providing a COVID 19 update tab where you can upgrade your business hours, adjust service options that are; curbside pickup? Takeaway only? Free delivery? And some other appropriate social distancing measures.
3. Craft your post
Google My Business posts do not have to be pretentious. There are chances that your audience is actively searching for the details you are providing. On the other hand, some techniques are better than others, so here are the finest tips to keep in mind.
Text
The posts have 1500 character limit, so focus on keeping things short and direct here. The first 8 to 9 words will show up in the prime spectrum, and users have to click to read more. So, for this, get your message as quickly as possible.
Pro Tip:
Make sure you do not go longer than 150 to 300 characters unless you have a very good reason.
Hashtags are counted as unnecessary and irrelevant in Google My Business posts. But, a few on brand emojis are a nice choice to keep.
Visuals
The videos and photos you upload for your posts should be competent, or as professional as you can manage.
An enticing and captivating portrait of your prize winning photo or some funky angle on your wall might be the deciding factor for a new customer who is trying to choose between you and other places down the street.
Flaunt your absolute best in order to convert searchers into potential customers. (Continue reading for Google My Business post image size guidelines.)
Call to Action
Google offers an array of CTA (call to action) buttons. Options can vary depending on your post type, but all the standards are portrayed such as Learn More, Buy Now, Order Online, and many others.
You will definitely need to make sure that you link to an effective, scannable, and seamless landing page. If you are not linking to your own landing page, ensure it should be of the website that you can trust, so that it won't risk running erringly of Google's content policy.
Pro Tip:
You must use UTM parameters for your links so you can analyze how much of your website traffic is coming from Google versus your other marketing tactics.
Date range
If you are listing an offer or event details, you must specifically state the times and dates for which it's valid.
Pro Tip:
As per Google, all the posts are archived after 7 days, unless a post has a specific date range.
Publish
Click on Preview to check how your post will look. Make sure that you copy edit and adjust it, then go forward and click on Publish. Your post will show up in three places, they are:
On Desktop: In the "From the Owner" section of the Business Profile, therefore in both Maps and Search.
On Mobile: The tabs labeled Updates
Overview of your company's Business Profile in both Maps and Search.
Google My Business websites are also known as those effortless websites that Google helps businesses to make if they don't have their own.
Make sure to check on your analytics
Plausibly, Google has an abundance of intriguing insights for you to have a look at once you have got some posts up and running. Check out post views at your post and analyze how your customers are captivated by your profile. Then offer them more of what they want.
Pro Tip:
Handle quality and quality well. According to a study, customers feel 1.7 times more trustworthy when businesses respond to reviews instantly than those who don't. Certainly, make sure that your digital customer support strategy is maintaining an eye on your Google My Business reviews, along with your other social media platforms' habits.
Can you post on Google My Business with the help of My Business?
Yes, you can post what's a new announcement with the help of My Business. There is a simple process you have to follow:
Verify your My Business profile.
From the My Business directory, install My Business.
You'll now have a My Business tab on your dashboard.
Authorize My Business to access just like Google My Business account for each stream such as posts, questions, and reviews.
In the Posts stream, click to add a New Post.
Fill in the fields with text, image, CTA (call to action) button, and link.
Click on Post Now.
Image post sizes on Google My Business
When you post visuals on your Google My Business posts, you will have to keep these guidelines in mind:
Image size:
Minimum: 400 wide x 300 pixels tall, 10kb
Maximum: 10,000 x 10,000 pixels, 25 MB
2. Video size:

File sizes (AVI, MP4, MOV, etc.) can be a maximum of 100MB.
Top 5 considerable Google My Business post examples
Event promotion posts
Where in-person events are not back yet in style yet, this is an impeccable example of how a local bookstore keeps everyone streamlined on the shenanigans in their different locations.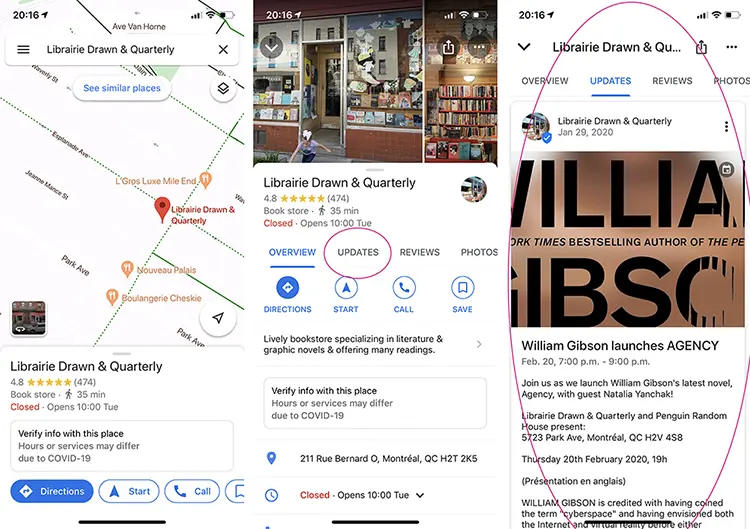 Update posts
During the lockdown, implementing an online ordering system and showcasing the opening times to the customers was a shrewd move at the COVID times. Even in better and fun times, it is always enticing to post some images of your offerings, and maintaining your hours freshly upgraded is a great way to deal with customers.
Promotional posts
If you have a coupon or some sort of promotion and you want your customers to hear about this, then you must post it here.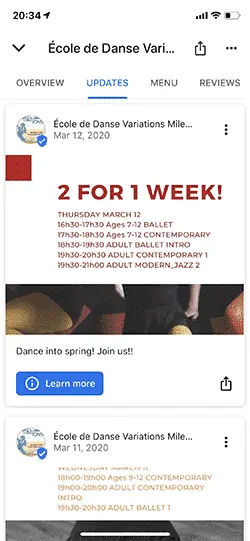 Human posts
Google is not an Instagram or any other social media network. You are not mainly here to win minds and hearts by posting. Posts are adequately functional.
But here is a mind-boggling example for you. Take a look at the image below.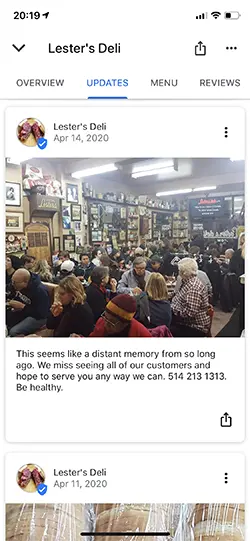 If all else fails, just post some exceptional visuals
There is a brilliant thing about photos and videos is that Google will multipurpose them into your Google image search, into your images, and many others. So just put some more emphasis on good pictures and hire a professional photographer for some good quality images.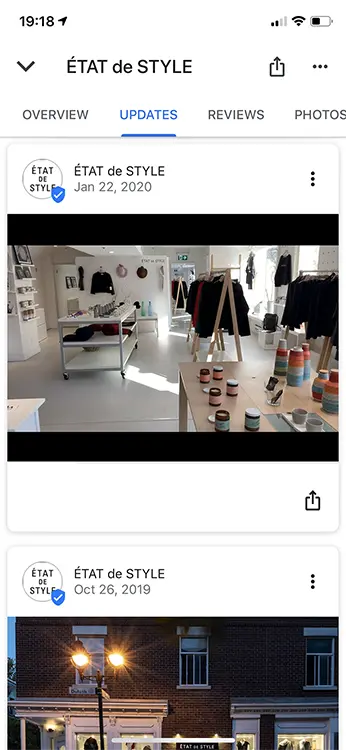 Best time to post on Google My Business
Google does not give a statistical guideline on the effective time to post on Google My Business. But, here are some points that will help you find your own best practices based on your special audience.
Post when your audience will look it
Take some time ad to analyze your audience's tastes and preferences, habits, time zones, commuting schedules, etc. These points will be applicable for both online as well as real world habits.
Let us take an example over here if you are running a burger shop with regular weekend bustling. Then you must post about your weekend deals or offers before people start to search for you, you must list say, Wednesday or Thursday.
Review the analytics and test the similar posts at different time
With the help of Google My Business, your enduring content, like mentioning how you have accessibility to that periodic brand of imported soya milk. As we know, posts disappear on their own after every 7 days, thus this sort of content can be reposted every week.
When you figure out when to post it means you can experiment week by week, to see what time is best suited for you.
Summing Up
We hope that this article post will help you get all of your doubts clear from your head. Thanks for reaching out to us, we will assist you 24*7 with all your queries. The above mentioned points will help you rank in Google, just follow the steps and make it work like a pro.
Try My Business for better reach on your brand and drive maximum traffic. Create, schedule, and publish every post with the help of My Business. Try it now, get in touch with us.