The Google My Business Listing of your brand is one of the finest features available to you to help elevate your presence in local search. Also, it gives you the potential to control how Google presents your business's information.
If you are a business owner and you do not have a Google My Business Website because:

It is too difficult to build a website on your own, or
You have given an estimated sum of money for someone to build a website for you.
It is Effortless With Google My Business Website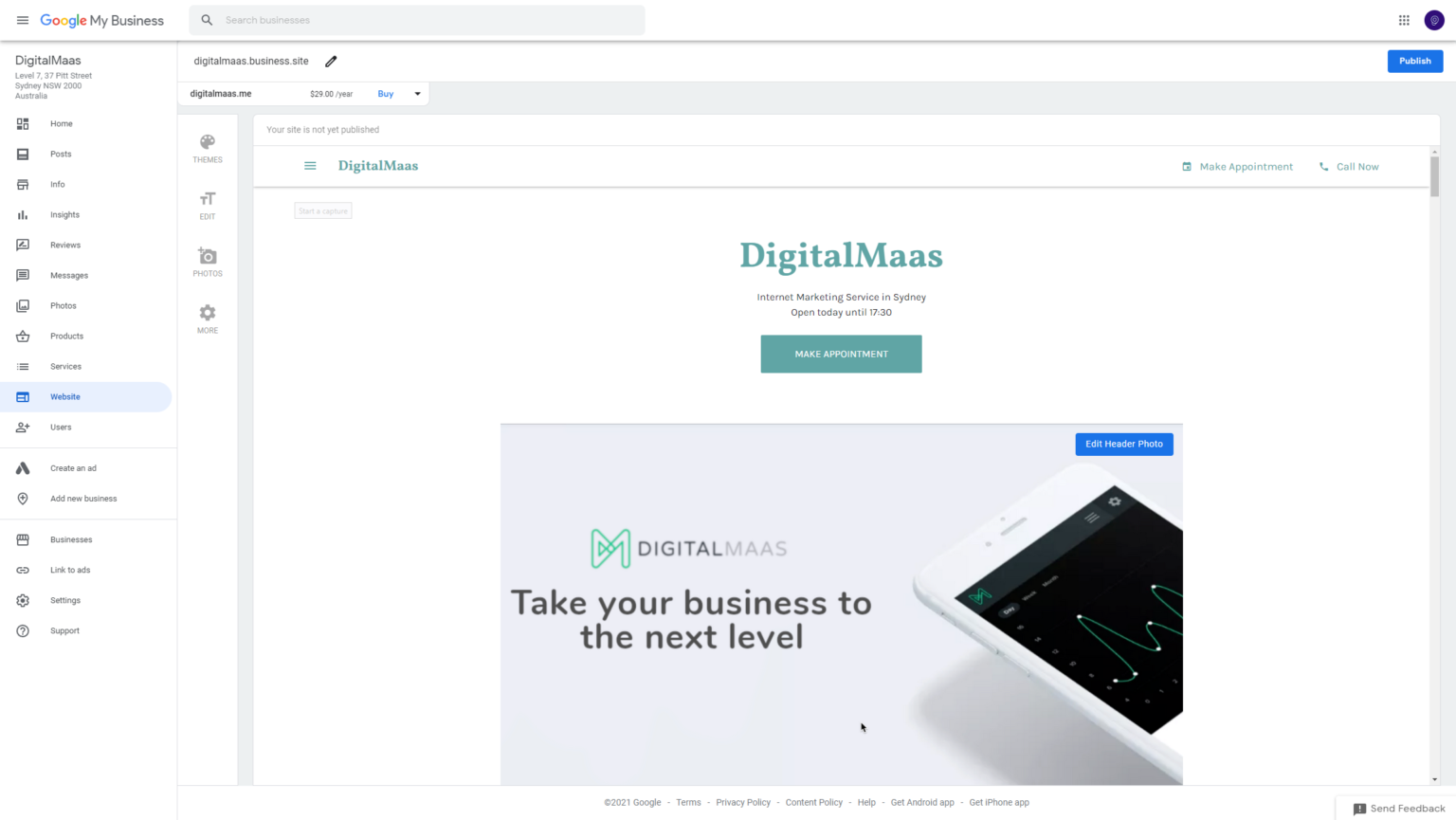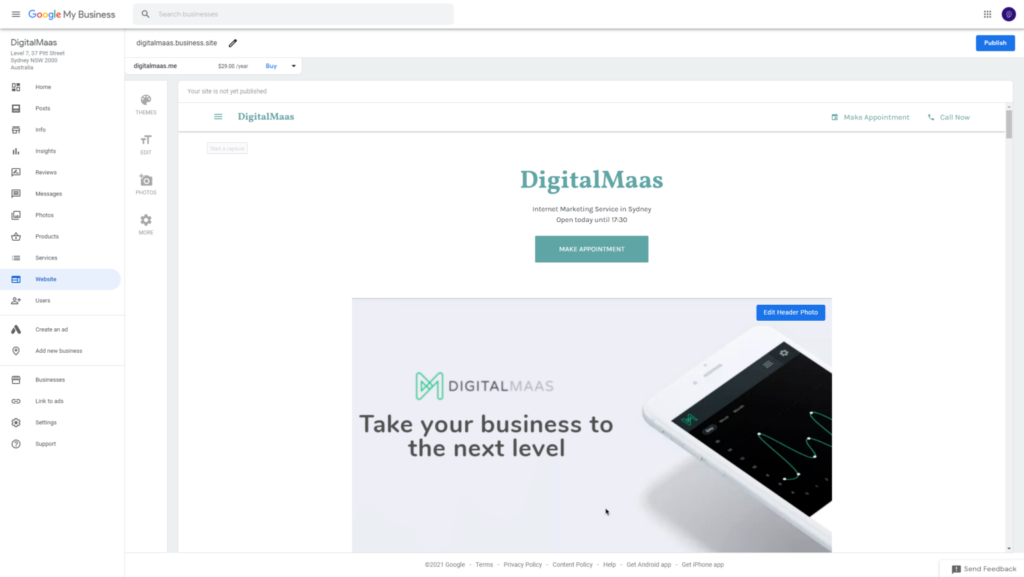 Well, there is some good news! Google My Business has just come to the rescue with solutions to both the issues and more.
Here, all it takes is a Google My Business account and just three easy steps to create a new Google My Business Website in under 10 minutes.
The website builder automatically advances your website with all your Google My Business information and photos so there is a clear vision of everything before you even start.
You can easily customize your Google My Business site with color palettes and themes. Also, manage your content and images to reflect your brand.
You can add a custom domain if you want one else if you do not need it then click on publish. It is that uncomplicated and effortless to create.
Why should you build your Google My Business webpage?
Now, Google allows businesses to create a free one-page website through your Google My Business listing. For businesses who cannot afford a professional solution to hire developers, this can be a good start to having a website.
The industry experts believe that when you have a website, Google My Business optimization will help improve your search engine rankings. Always remember, that Google likes when you take leverages of its products and services and work according to its algorithm, and creating this website is one of them.
Free features are more effective than no features
This is not an intricate solution and it is free after all!
But there are many processes that need to be looked out for and you do not get a basic one-page website with some features that are more than enough to get you started:
Mobile Responsive
The Google My Business website is mobile responsive and ultimately it is user-friendly. Also, it looks enticing on all devices without you changing any code.
Automatic Updates
When you start updating your Google My Business account, your website starts to update automatically with your modified information so your details are always up to date.
Add a Custom Domain
When you are ready with all the processes, you can add a custom domain. By this, your website and its URL reflect your business.
If your account does not already have a custom domain or any other preferred suppliers of custom domains, then you can easily buy one from your Google My Business account at the time you create a website.
Run Ads to Get More Exposure and Traffic
You can run advertisements with AdWords to get more customer engagement to your website and drive customer actions.
Boost Local Search
Your website impacts your Google My Business Listing. The attractive features entice the customers to engage with your brand.
Who can get leverage from this kind of basic website?
Business owners who are having their first website.
Anyone who is considering the satisfaction of creating a DIY website.
A business that just wants an engaging contact us page for initial customer engagement via the contact page.
Some small businesses do not need elaborative and catchy content on their website.
The businesses that can benefit from having a lot of images without needing much content, such as custom furniture makers, accessories owners, or photographers.
How can you create your own Google My Business website?
If you have a Google My Business account, you can build a website directly from your account with ease. If you do not have claimed your Google My Business listing, so once you claim it you will have the option of a website built as a part of sign up procedure.
Tip: You can use My Business to create your account and website.
Step 1:
Firstly, log in to your Google My Business account and click Website from the menu.

Click via the step wizard to get started.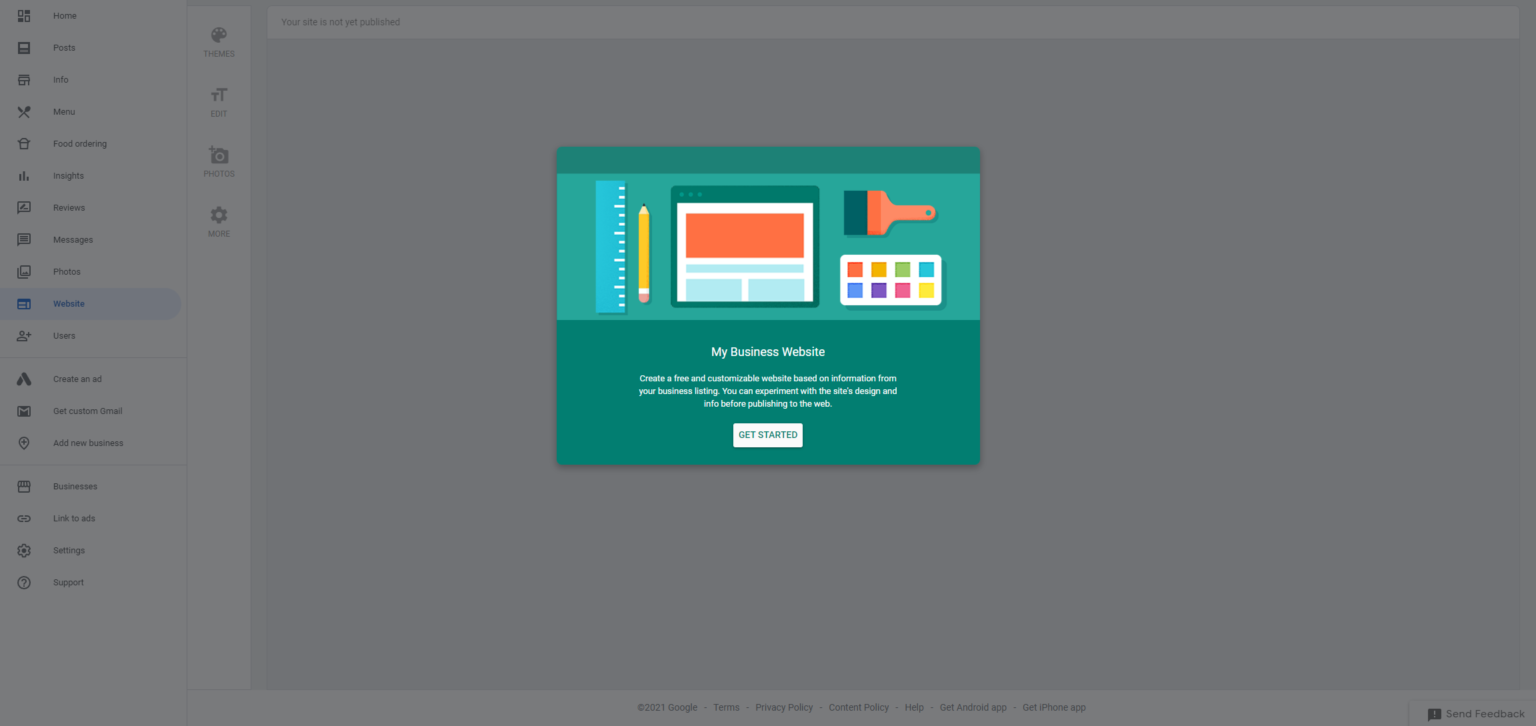 Step 2:
Secondly, after clicking through the step wizard. Google will scan through your details, images, and other information in order to settle your Google My Business website. After that, you can modify your theme as well as add some Google Posts, a genuine business description, and up to nine photos.
If you own a restaurant or cafe, you can add a menu too. Under are some other elements that you can add to your website:
Banner Image
Call To Action
Quick Summary
Navigation on the Header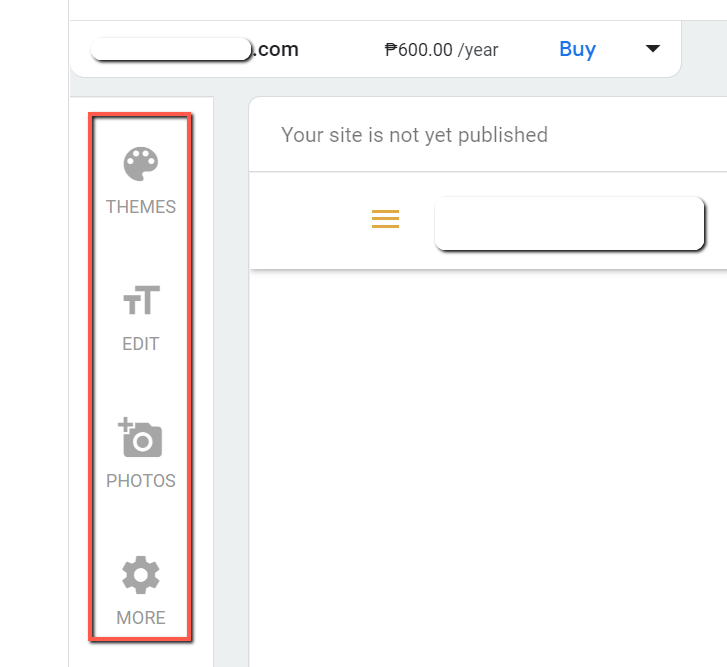 Step 3:
Once you have filled in all the information, with layout and theme, go ahead and click on the Publish button.
You can buy a domain from Google Domains, or add your own domain if you already have one while publishing your website.
What if you already have a website?
In today's time, we know every business owner is having a website to get more engagement and to convert leads. While we know many businesses mostly like to have a dedicated website, having a Google My Business website has definite advantages:
The link that you add to your Google My Business profile has to be an authentic backlink. You can use the Google My Business website to link back to explicit pages on your website, thereby improving your chances of ranking higher in search results and streamlining your buyer's journey.
A Google My Business can perform as an alternative to your social media platforms as it shows the most essential details about your business. This might not be visible to your social media handle followers.
All these functions will not replace your website but instead, serve as an additional asset when done appropriately. It will encourage your users to become your potential customers and make your brand their first choice.
Summing Up
We hope that above mentioned points will help you in creating your Google My Business website more effortlessly and quickly. Thank you for reading this blog.
We also offer My Business solutions, where you can easily create an account with My Business profile. If you do not have the resources and time to build a website, we are happy to serve you with our impeccable services. We have affordable My Business services where we set up your listing including all the latest features.
We always feel delighted to help you with your requirements. Get in touch with us today to burgeon your business and drive maximum traffic for your brand.