Do you also wonder if you had more employees, time, or resources to help you run your business? Fortunately, Shopify tools can be of great benefit. It drastically cut down the workload and streamlined tasks that would otherwise take a long time to complete.
It is never been an easy task to run a business as a solopreneur. From designing a logo on your phone to importing the products in only one click, it has a lot to do. Here Shopify is of great help, it acts as your own personal assistant, and as your support system that has never been this bigger.
9 Best Shopify Tools for New Entrepreneurs
Without any future ado, let's read out the finest Shopify tools to help your business burgeon in this competitive world.
Exchange
Exchange is one of the most popular Shopify tools that we have. This tool is popularly known as the tool you use to buy and sell online stores. You can browse online stores for sale based on an array of features such as monthly revenue, price, site age, business type, and many others.
If are a newbie, you can buy a store via the Exchange tool so that you can hit the ground running with these marketing tactics. There is no time to be wasted in writing product descriptions or putting heads together for a domain name. Also, if you have been running your business quite successfully for a while but you want to do some modifications in niches, you can sell your store to some other merchants. For this, you can also browse for information such as sold stores to analyze what sort of stores people are interested in purchasing.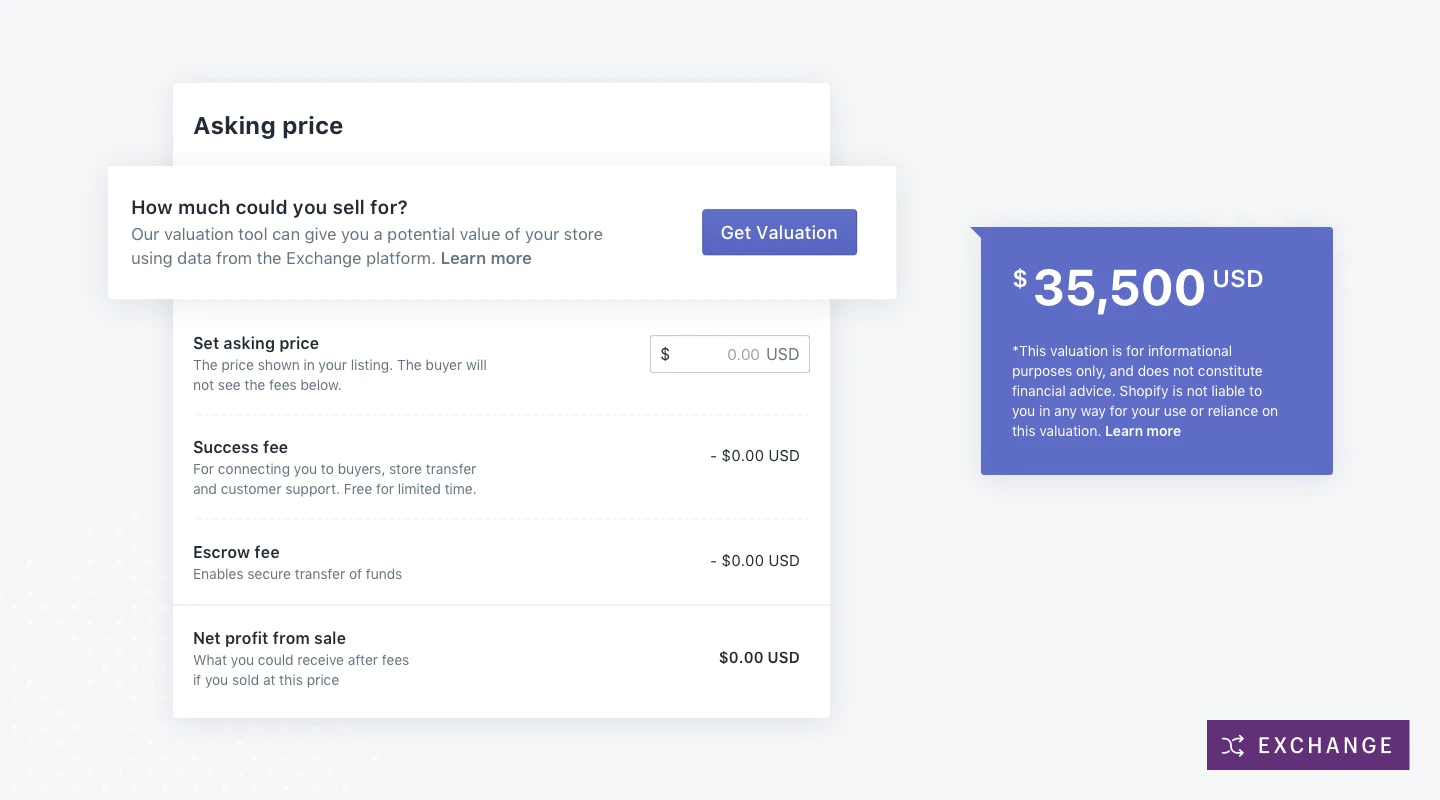 But there is one aspect of this Shopify tool that you might not have an idea about is that when you install their application on your store, you can find out how much your store is actually estimated. The Exchange tool calculates your brand's estimated value based on multiple factors such as how much money you have made, including many others.
Many tools are less reliable than Exchange as the store valuation tools don't factor in how much money your store has made as they do not have access to the data. When you install the app, you don't have to sell the store. You can simply analyze what your store's value is and audit its development over the coming months.
ZapInventory
Let's assume that you are on your website and you may have checked out the Shopify tool; ZapInventory. If you are wondering and never have heard it before, ZapInventory is essentially a shipping tool. Shipping is a business model where you, the retailer, sell products from a manufacturer directly to the consumers. There are many other integrations that ZapInventory has on its list.
You can have complete control of your Shopify inventory. With ZapInventory, you can easily import all of your orders, products, and customers from your Shopify stores in one place. Give your customers a seamless and integrated experience with us:

How the Shopify integration and ZapInventory works?

You shall witness some of the important points here:
With Single Click Connect you can connect your Shopify Store in just a few clicks. Add your Shopify Store URL and connect with ZapInventory in no time.
With the help of Real Time Import and Export option, when you connect your Shopify Stores, ZapInventory will import all of your orders, products, and customers automatically in real-time. You can even import or export inventory with a CSV file. And most importantly, push and pull over all the essential and updated product quantities in a few seconds.
By 2 Way Synchronization, you can sync the data from Shopify to ZapInventory and from ZapInventory to Shopify too. Also, add new products in ZapInventory and push them to Shopify.
The features that ZapInventory Shopify integration includes:
Intuitive Dashboard
Multiple Shopify Store
Auto Updated Inventory
Streamline Purchases
Fulfill Sales Orders
Tracking and Adjusting Inventory
Shopify POS
Perfect for Multi Channel Sales and Multi Pricing
Streamline Your Accounting
Shopify Reporting
Saves Time
Kit
Kit is a great marketing automation tool. Also, it is a great social media marketing app that helps you create and manage successful campaigns. With the help of this tool, you can send out emails, post on social media, create ads, send reminders, and many more. You can interact with Kit on your mobile devices to make sure that your marketing strategies are consistent.
The kit tool can redirect your store visitors who didn't make a purchase on their first browsing. You can also send a personalized email to customers after they have made their first purchase from your store. Additionally, with Kit's frequent text reminders you will never forget to post on social media ever again.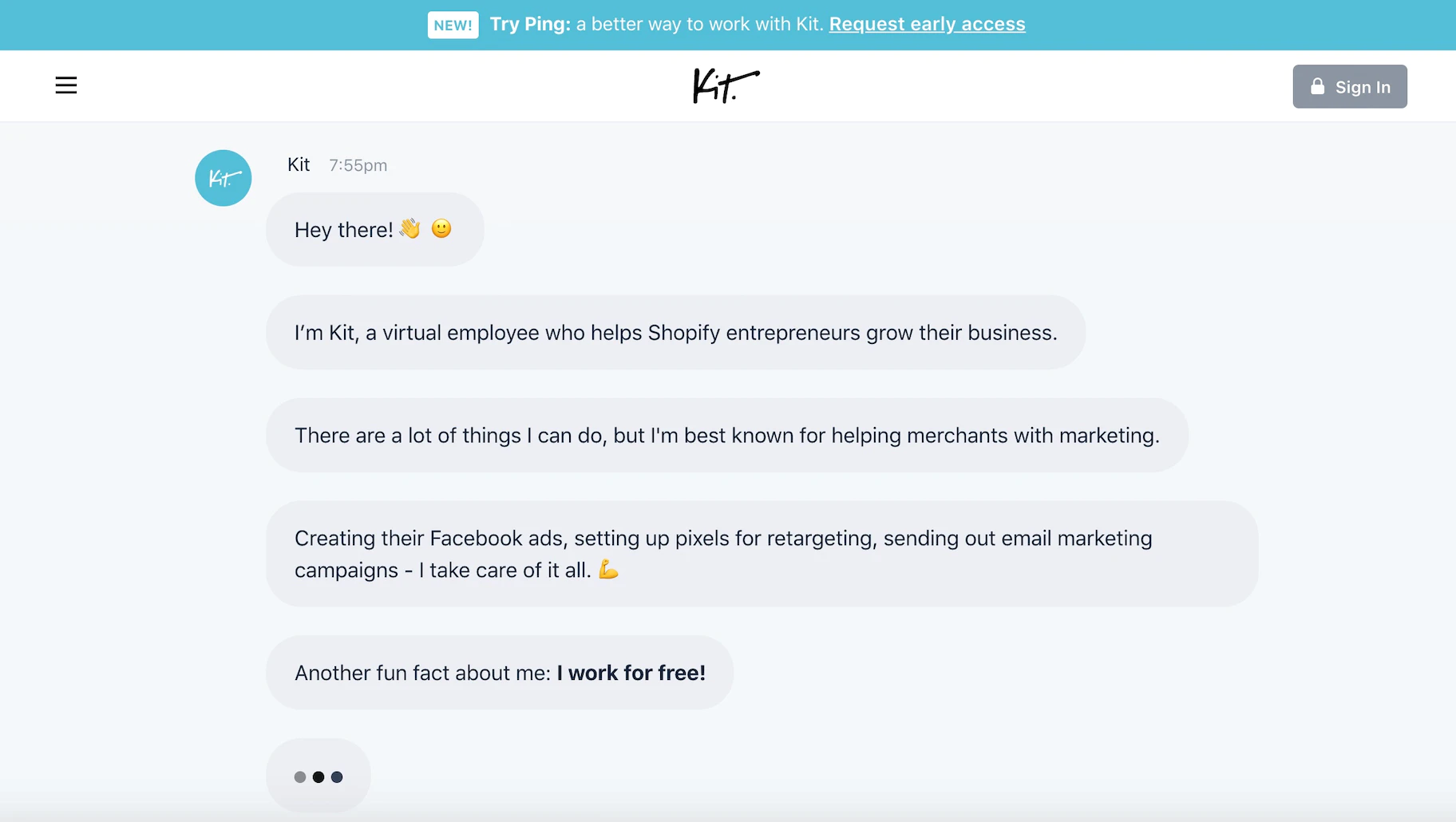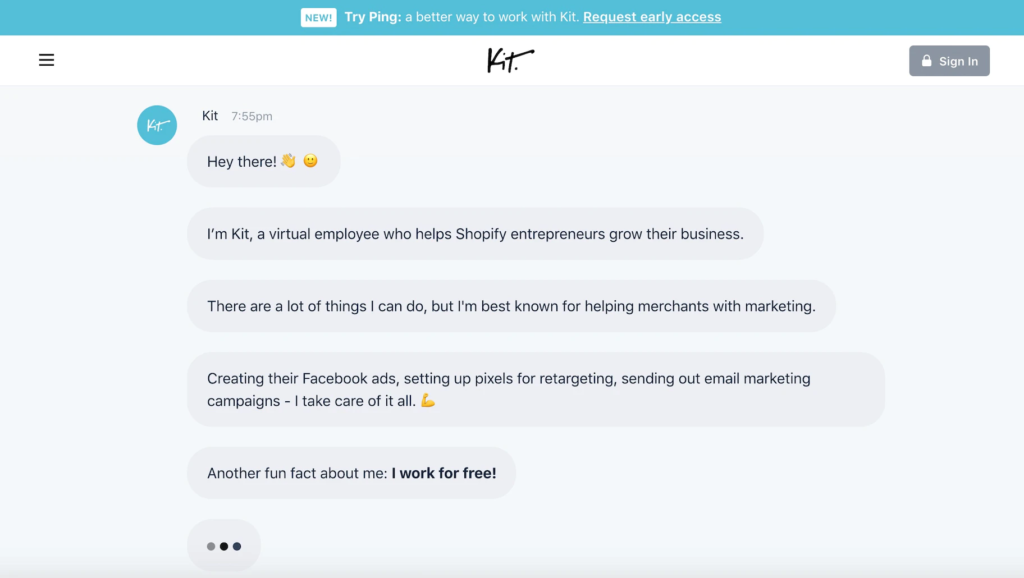 With Kit, you can create discount codes via an uncluttered conversation. The Kit tool can create a custom discount code and then according to your preference, it immediately promotes the code through an ad or a social media post. To use it for marketing purposes, you do not have to log into your store to create the code. Since Kit is owned by Shopify, it saves you a lot of time and thus, it integrates perfect features.
Burst
With this another great Shopify tool, you can browse it within your Shopify admin or on their Burst website. They add new images to their expandable collection of stock photography at least twice a week to make sure that the latest ongoing eCommerce trends have stock images.
If you are running a fashion store or selling makeup brushes, you can find the quality images that you can use for your banner images, ads, and other marketing materials. Some of the products that you will find on ZapInventory have stock photography for the same product on Burst. It means that you do not have to resort to generic photos.
The Burst tool specializes in photography for eCommerce store owners. This makes Burst the best stock photo platform for new entrepreneurs. Also, the images are free.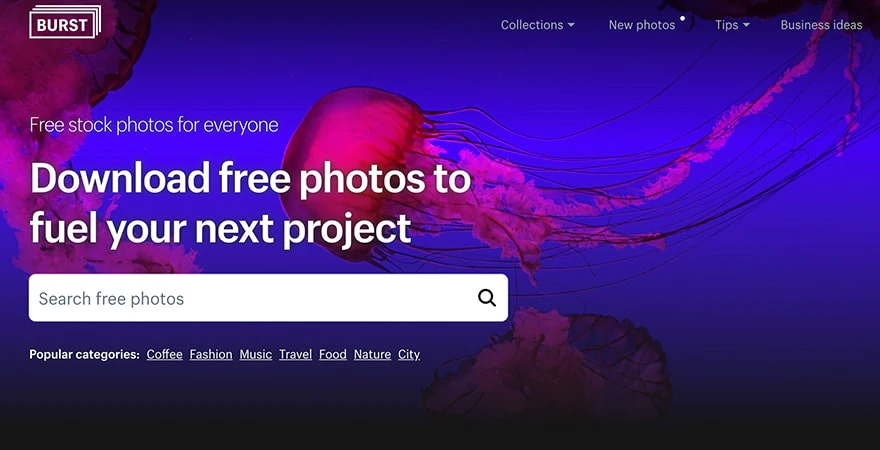 There are some of the cool things that Burst does differently too. As Burst specializes in photography for online retailers, you will find the stock images for niches such as watches, cell phone covers, and make up brushes. This can be difficult to find photos on traditional stock photo sites.
Their website also has store case studies where you can get an understanding of how to build a store. Also, those case studies might consist of photo packs that you can use for your store. Likewise, their stock photos collection have models that represent multiple values, ethnicities, genders, and many other types. With the help of models, your imagery can represent your diverse customer base. When you search for some pictures on Burst and if you may not find those images, you do not have to worry. You can try searching for the same image a few weeks later as they make their user search data priority and their photoshoots and upload pictures on their website related to the queries. Just by putting up a term on Burst, you have increased the probability that relevant photos will soon be updated to download.
Business Name Generator
The Business Name Generator is the Shopify tool, that allows you to effortlessly find a business name for your online store. You can enter the keywords that you need to include in your business name. As you do this, a list of domain names circulates with your keyword.
Let's take an example over here; if you are about to create a clock store, you would find business names such as Amazing Clock. You can purchase the domain according to your relevancy and start working on your store on the same day.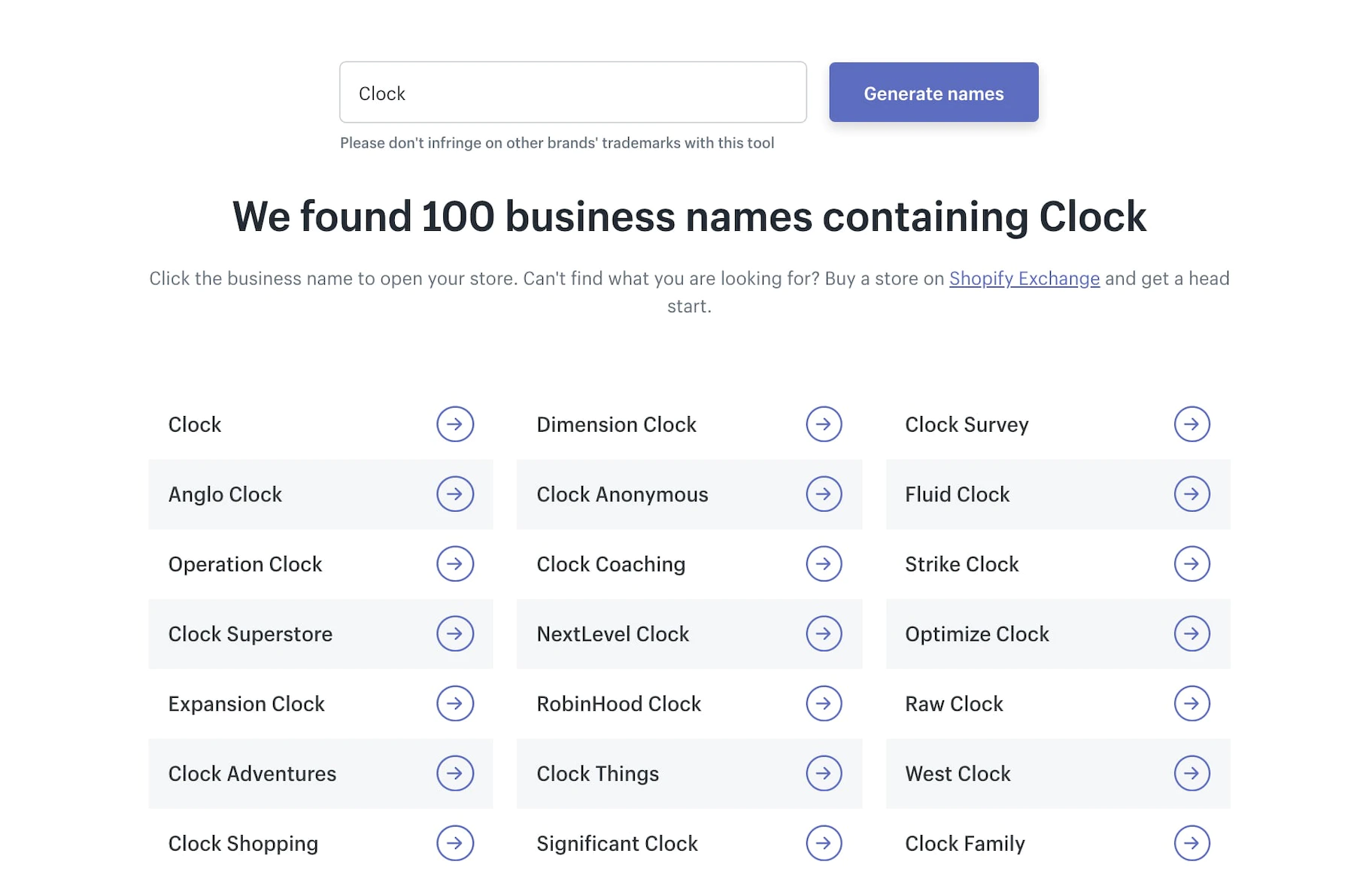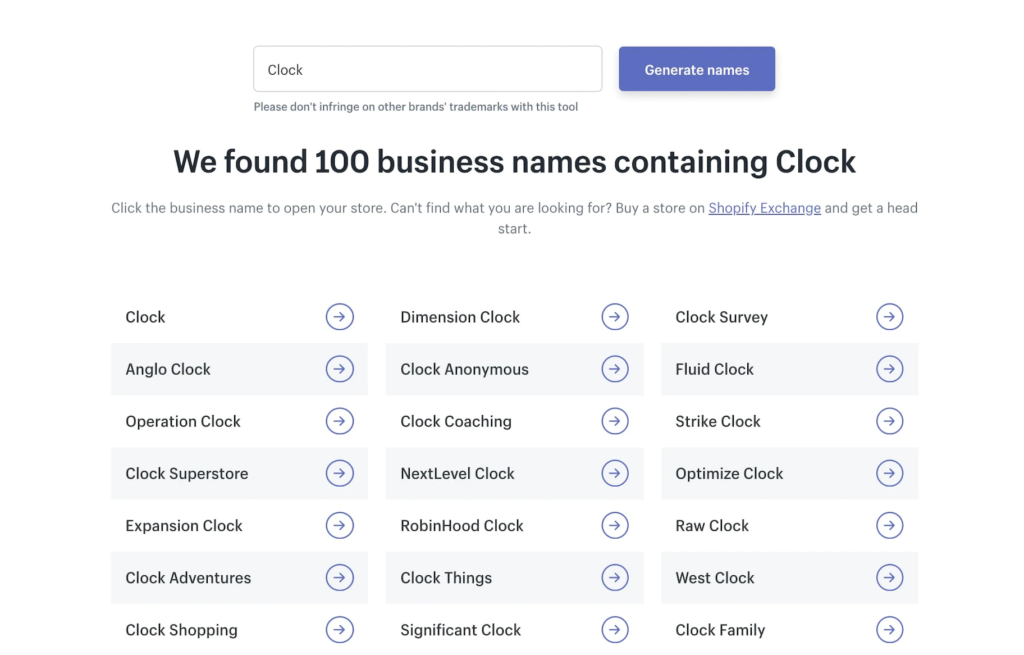 While you purchase your domain name from some other provider, the setup is easier when you buy your domain name through Shopify directly. If you are starting out, then you won't have to point to your domain name from another provider to Shopify, as it can be a bit confusing. The process is easy when you buy your domain name from Shopify. And also, you might be able to get your domain name for free, if you have signed up for annual billing. For more information, you can reach out to ZapInventory to find out more details.
Slogan Maker
Slogan Maker is another great Shopify tool, that allows you to create a catchy and attractive slogan for your homepage banner, social media graphics, and ad copy. Also, you can enter your business name, keyword, or niche to find a list of possible slogans you can use. Every time when putting a keyword, so for each keyword you use it will provide you with a variety of slogans. So it appears that not a size fits will all sort of deal. For instance, if you search fr yoga, it will mention slogans related to exercise, meditation, weight loss, and spirituality. So, it modifies the slogans to the keyword you put.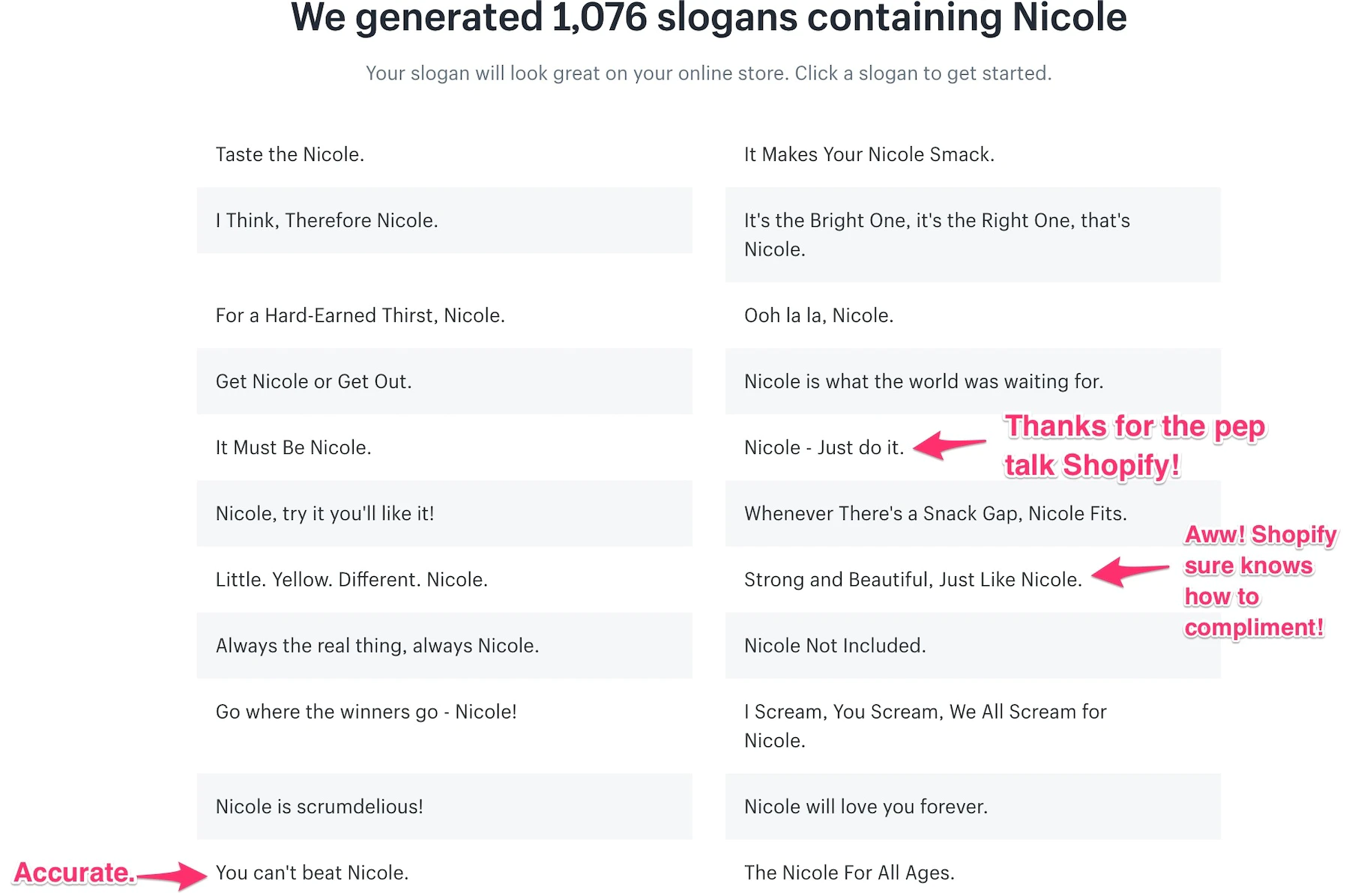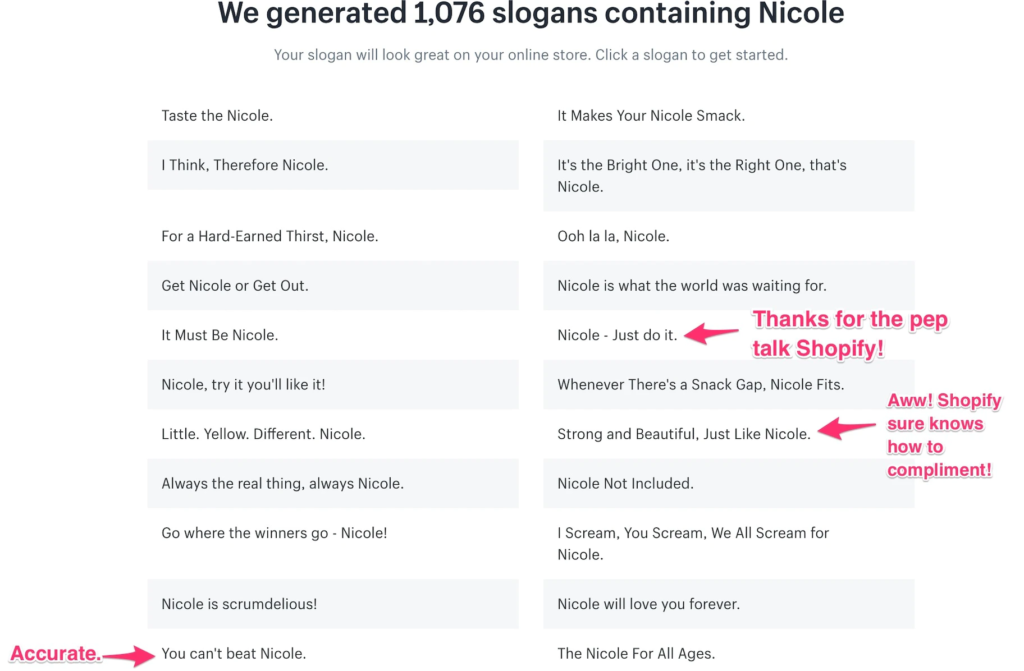 While this is not for the intended purpose, not even a little bit, the Slogan Maker Shopify tool also acts as an inspiration tool. Say you are feeling nostalgic about photos and need a bit of a caption, you can add your name to the Slogan Maker and it will come up with amazing slogans with your name in it. Some are exactly you can feel better to reminiscence the memories. You might feel like procrastinating for 2-3 minutes, but some of the slogans make you remind to get back on track. This is pretty funny, try it out!
Hatchful
The Hatchful Shopify tool, helps you take logo design to the next level. You can select from a variety of styles, fonts, and colors to design an epic logo. If you don't have a budget, you can choose from free designs. And if you have a small budget or you can pay, you can check out their Premium designs.
You will find designs catered for niches such as beauty, tech, fashion, and more. Some designs have simpler art while others have colorful logos. According to your budget or sense of style, you will find a logo that is relevant to your brand.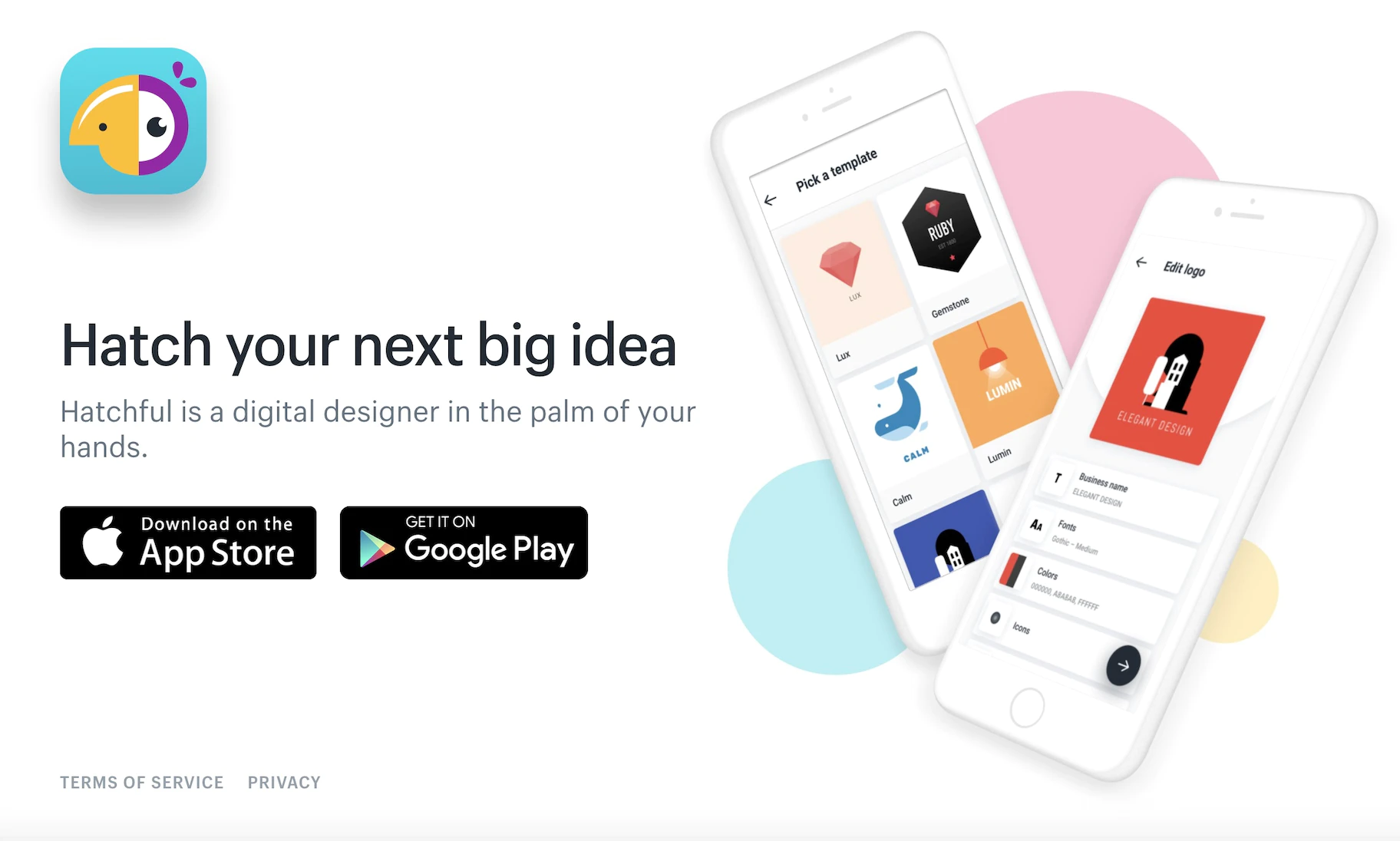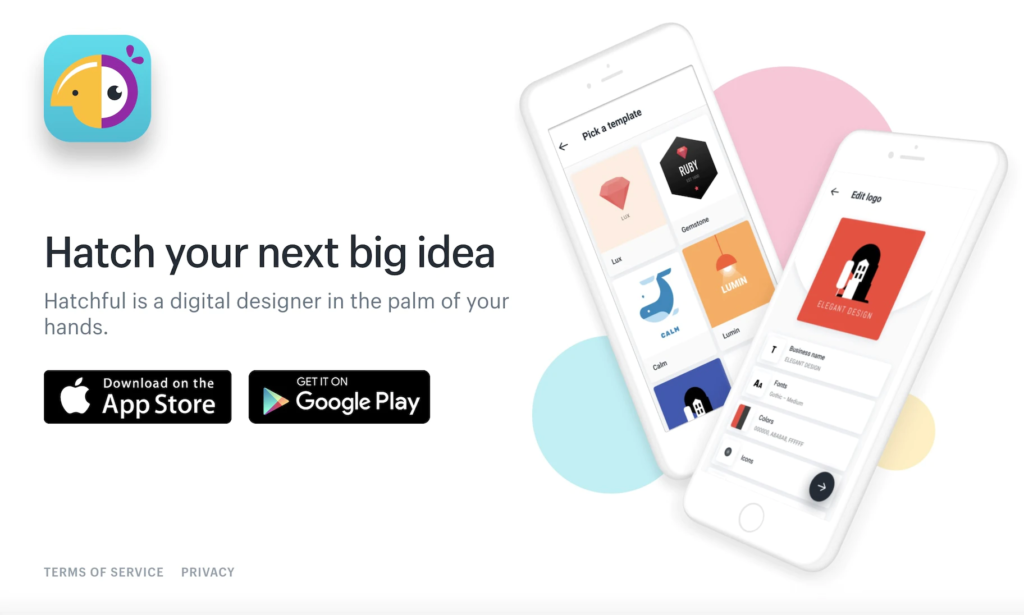 To use the Hatchful Shopify tool, you will need to install the app on your phone. A web app is currently under maintenance. You need to follow four steps to designing your own logo. You can choose your niche, write a brand name, select the font style, color, and style, and what else you are using a logo for. If you are looking to create a cost effective yet professional looking logo, the Hatchful app is one of the most important logo makers you will find online.
Image Resizer
When for the first time, you import your own product images, you might end up realizing that they are not all the same square shape. When you enter the Shopify Image Resizer tool, you can choose from three sizes, all that too square shaped. Its main motive will likely be for product photos to make sure a unified look throughout your product collections. Choose the right size for the images based on your needs and requirements.
Under are the two important questions and answers to have an idea.
Do you need a faster site load time?
For this, choose Compact.
Do you want to show finer information on your product images?
For this, choose Large.
If you are resizing multiple images at once, be very sure to take an advantage of the drag and drop feature. With this, you can upload up to six images at a time.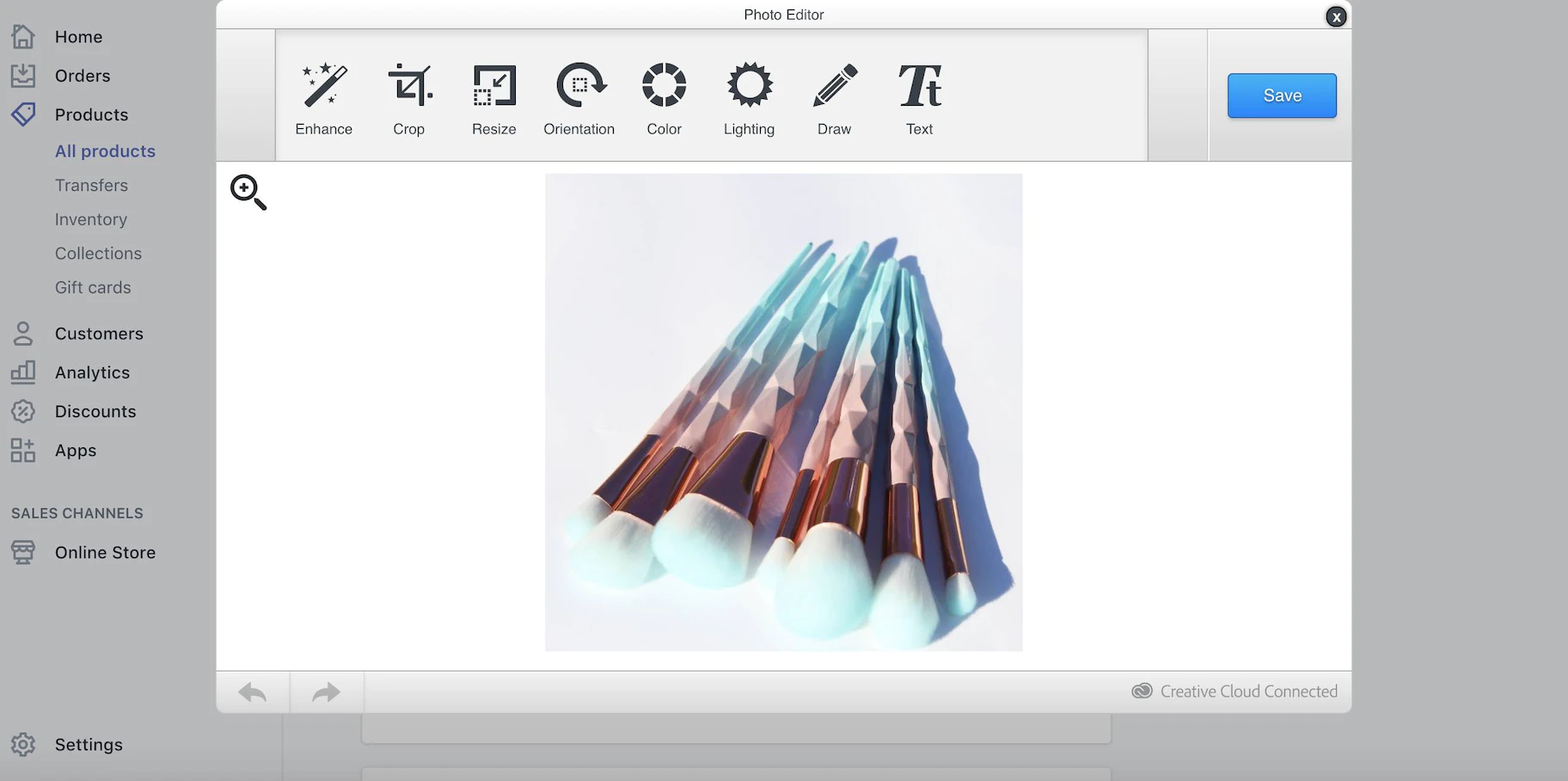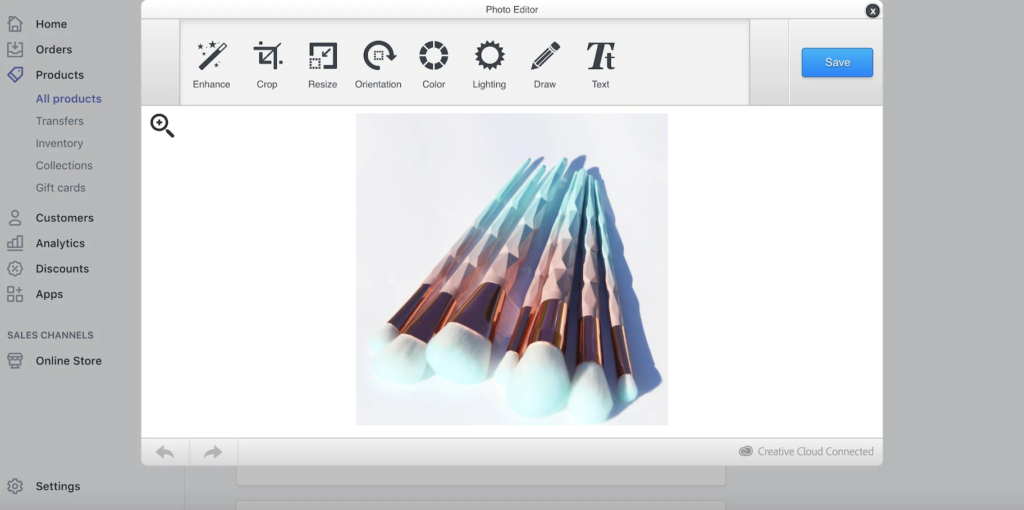 You know what is the best part of this Shopify tool? You can find it within the Shopify backend on your online store. When you hover over your product image on the product page, you will see a Pencil icon. When you click on it, you will see a variety of features that allow you to edit your image on Shopify. You will be able to resize, crop, remove logos and enhance images directly in the Shopify app. This will help you in saving a lot of time since you do not have to manually upload images one by one back on your website as you can edit the issues on your product page.
Finance Calculators
Shopify comes up with three Finance Calculators that help you manage your store's finances. You can use them wisely.
Here are three mentioned tools that you can check to maintain your store's finances
Free CPM Calculator:
You can use the Free CPM Calculator to establish the cost of your ad campaigns. When you enter the total campaign cost and ad impressions you will get the result of the cost per thousand impressions with just a click of a button.
Gross Profit Margin Calculator:
Another Shopify tool you can work on for finances is Gross Profit Margin Calculator. You can add your product cost and your markup percentage to find out what your retail cost and profit margin should be. This calculator helps to make sure that your business stays lucrative. Do not forget to consider the advertising cost when you look at your profit margin.
Small Business Loan Calculator:
The third and last finance tool is the Small Business Loan Calculator, it allows you to look at how much your loan will cost you according to your loan amount, annual interest rate, extra monthly payments, and length of the term. When you have a figure of the total cost of what the loan will be then you might be better able to decide whether or not taking a loan is gonna be beneficial.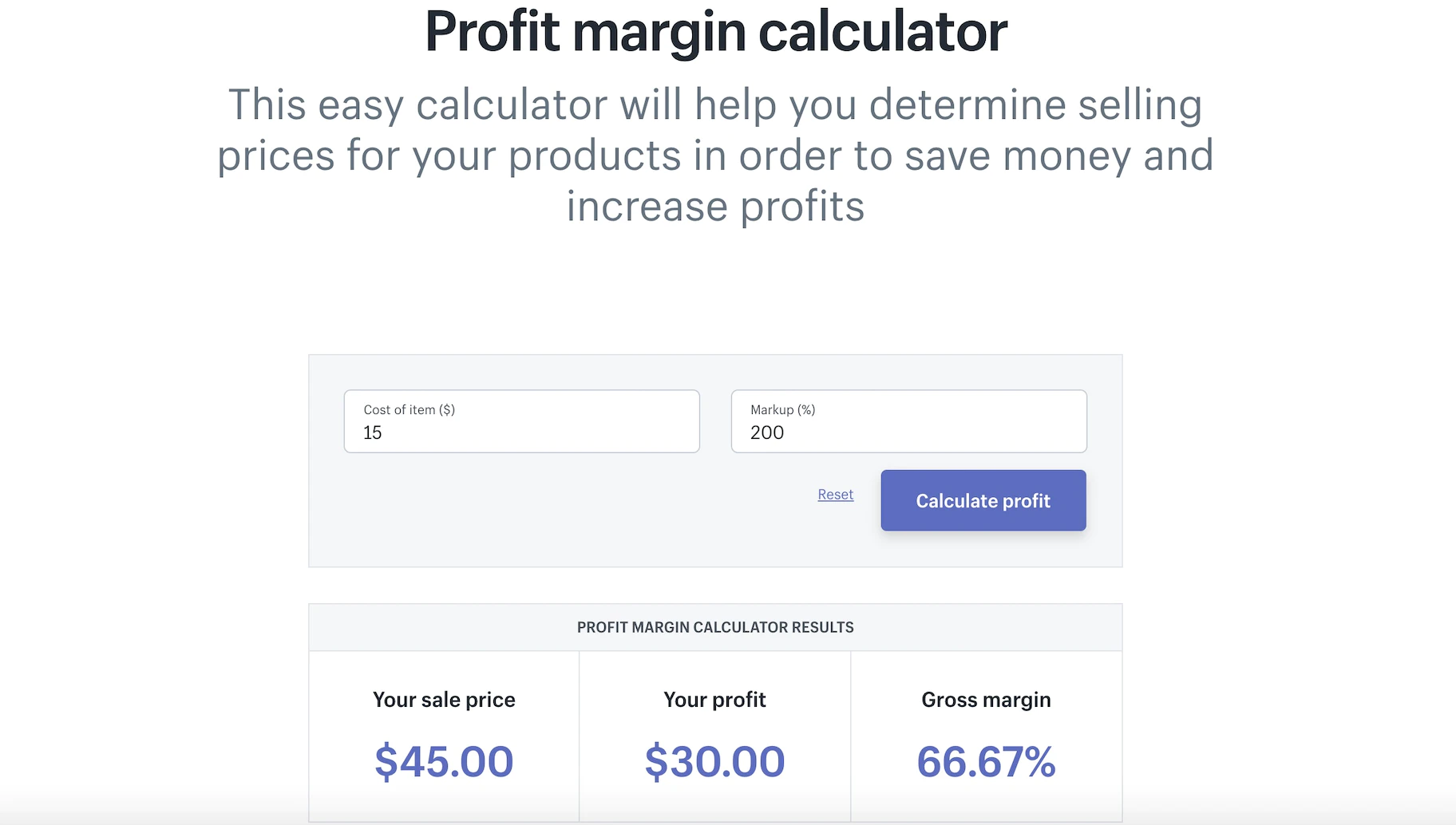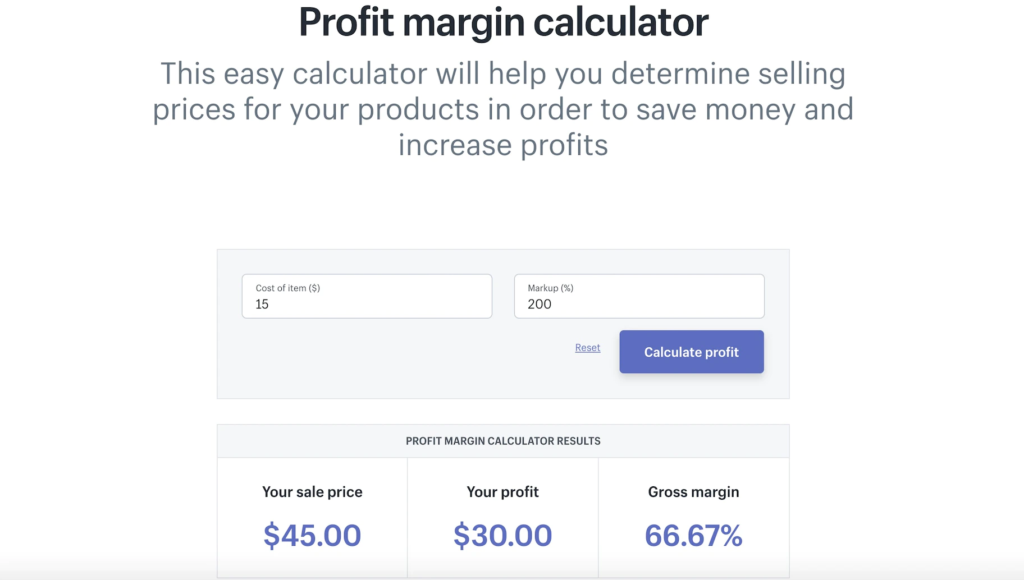 Conclusion
Thank you for reading out the article. We hope that above mentioned Shopify tools will help you find the best tool in the market. If you have any doubts regarding the article and tools you can connect with us.
As mentioned in the tools, ZapInventory is a Shopify tool, that is here to serve you to expand your business. Try this tool and make your business grow in the online world. We are here to assist you at every phase of the process. Connect with us for more details or visit our website.